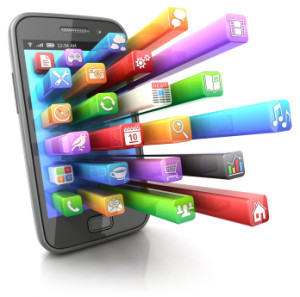 Guest Blogger:  Abby Perkins
It seems like there's an app for just about everything these days. With just a quick glance through the iTunes or Google Play app stores, smartphone and tablet users have their pick of thousands of apps for social media, multimedia, time management, shopping, and more. Many are well-made, useful tools designed to our lives easier or more convenient. Most can be downloaded for free or for justa few dollars.  There are even plenty of homeowner focused apps available for the homeowners among us. Whether you're shopping for a home, decorating, budgeting, or want to take an inventory of your belongings. There are some really neat and helpful apps for finding and managing your home.
HomeZada
A comprehensive home management app, HomeZada gives homeowners peace of mind by keeping their homes running smoothly. Users just need to create a HomeZada account, then download the free app from Google Playor iTunes App Store. With the HomeZada app, homeowners can inventory their possessions, and document important warranty information. Homeowners can store emergency contacts, record photos and dimensions of rooms for renovations or repairs, create a maintenance plan, and much more.
Houzz
CNN once called Houzz "the Wikipedia of interior and exterior design," and they're not wrong. Houzz is the largest database of home design inspiration on the web, with more than 4,000,000 high resolution photos of interior and exterior design ideas. Users can search images by style, room, or location, and save them to their virtual ideabooks for future use. Houzz also provides an online community for discussion, project ideas, local contractor ratings and more. The design database can be viewed online or in the Houzz mobile app, available for iOS and Android devices.
ColorSmart by BEHR® Mobile
When it's time to paint, there aren't many apps that can compare to the convenience of ColorSmart. Available for free on Android and iOS devices, ColorSmart has two features that are especially useful. The app allows you to take a photo of the room you want to paint, and shows you a preview what that room would look like in a new color. Another helpful feature is paint matching. You can show the app a paint color, either from a wall or a swatch, and the app will match that color with the BEHR version.
BillMinder
Tired of paying late fees on missed bills? BillMinder is a great app for paying bills, budgeting and keeping expenses on track. The app is available for $1.99 on iOS devices or $2.99 on Android devices, and allows users to put all their monthly expenses. Tracking everything from mortgages to credit card bills to utility bills to insurance payments. All in a handy calendar. You'll be able to see when bills are due, set reminders, generate personalized savings reports, sync your data across all your devices, and even pay your bills right through the app.
DocuSign
Home ownership comes with a lot of paperwork. Eliminate the need to fax or overnight important signed documents with DocuSign. Any file you receive electronically, such as a bill of sale on a house or insurance documents, can be imported into the app. Once the document is in the system, you can draw your eSignature with a finger and send the document on its way. Available for free in the Google Playand iTunes Appstores, DocuSign eliminates the long wait time for snail mail, as well as expensive faxing costs. In addition to signing documents, the app also lets you fill them out, date them, and save them to other solutions. Other solutions like DropBox, Google Drive, Evernote or DocuSign account.
If you're looking for ways to streamline home maintenance, consider giving some of these apps a try. Each offers convenient, useful features right on your mobile device. All making owning a home that much easier.
Abby Perkins writes about jobs, workplace culture, and HR technology at Talent Tribune, a Software Providers blog.