The US is getting ready to celebrate its Independence Day. And while BBQ's and fireworks are being set off to celebrate this glorious event, we take a look at flags. This is the time of year where more US flags and the colors of the flag are used to commemorate our Independence. The US flag has evolved over many years to include each state that was added to the United States. Hawaii became the final and 50th state on August 21, 1959.  The most current flag looks like the following.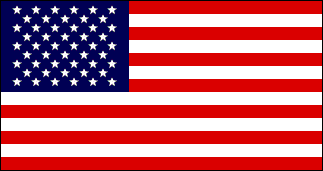 Many people are unaware of the guidelines on properly representing the flag. So let's see some of the tips on how to properly use the flag in your home.
Displaying Your Flag
The US flag should never touch the ground when raising or lowering it. Also, use care in folding or rolling your flag which helps to prevent it from touching the ground.
At a minimum, the US flag should be the same size as state flags when being displayed with other flags.
The US flag should be raised above the state flag or other flags if they are to exist together.
The US flag should not be exposed to the elements like rain and snow unless it is of weatherproof material.
Flying flags at half-mast is an indicator to mourn the less fortunate. And flying the flag at half-mast on Memorial Day is specifically about remembering those who were lost.
If you are using a flag on a car, the flag is represented on the right front fender or fixed to the chassis.
It is fortunate, that the US flag is displayed a multitude of ways using small and large flags. Showing your patriotic spirit through the use of the US flag has a lot of opportunities. And is a sign of respect and patriotism. Enjoy your celebrations and just in case you need some flags, you can get yours here.