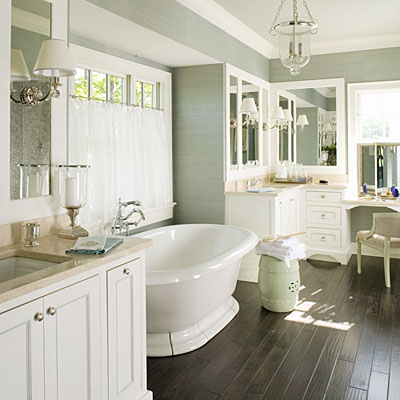 Guest Blogger: Vicky Clary
When you're remodeling your master bath, you goal is to create a room that's both fun and functional. It's a go-to place for ultimate relaxation as well as necessity. You'll want to soak in your tub, feel the rush of your shower and even contemplate the outdoors with natural light, a pleasing view or an indoor garden of any size. Think about how to expand your master bath experience to encompass relaxation as well as functionality.
Jetted whirlpool bathtub for two
Your bath is the highlight of the master bathroom. Some like to bathe alone, but others like to share. Some luxurious models even feature headrests so that you can submerge yourself, enjoying the swirl of water and enervating jet streams in ultimate comfort. One whirlpool for two model features nine powerful massage jets, a built-in microcomputer, LCD control panel and a handheld shower.
Waterfall faucet for your sink
Waterfall faucets can be mounted on the wall, counter or sink, depending on your sink's style and placement. What's special about this type of faucet is that the water flows like a stream instead of being confined. The waterfall design lets faucet water cascade freely, creating the gentle sound of a natural bubbling spring. Why not make your bathroom into a place you delight in?
Textured or colorful wall
Many find a neutral-colored bathroom very serene. This doesn't prevent you from using one or more walls as a focal area. Natural colored stone and pebbles make an understated yet elegant impact on bathroom walls. The translucence of glass tiles is also very pleasant for an accent surface. Your focus area can be small or large, neutral or bright. The textures and colors you select should be those that most please you.
Partitioned toilet area
When you have a partitioned toilet area in your master bath, it's easier to share the space with someone else. Some looks include a water closet style in enclosed area with toilet, a partitioned nook area or an area enclosed by translucent windows.
Creating a separation between the toilet and bathing functions will enable you to have a more peaceful master bathroom experience. The two contiguous areas can share the same finishes for a sense of continuity. Separation of bath and toilet has long been a tradition in many European countries.
Extensive shelf and cabinet storage
According to a recent study, 43 percent of people in the U.S. think they're disorganized. That being said, bringing optimal organization to your master bath is something that will add great value to your renovation. If you don't already have an excellent closet system in your bedroom, adding closets and other complementary storage is an excellent project to include in your master bath makeover. When you're working on new storage, you have the opportunity to consider the full suite of drawers, closets and shelving. Storage technology is always evolving and you can take advantage of the latest improvements.
Indoor or outdoor garden
There are many possibilities for including indoor and outdoor gardens in your bathroom design. Garden greenery can enhance the tranquility of any bathing area. In this example, light is economically provided by two windows. A small garden edges the exterior wall well within viewing range of the tub. When your master bath is on the first floor, you can consider including an outdoor garden in your design, either by adding a large window or a glass sliding door to an inviting outdoor space.
Superior lighting
Lighting is the key to an improved mood, and lighting that can be adjusted is even better. Indirect lighting in walls or ceilings can create a gentle and relaxing feeling. Sunlight may not always be available, but if you're renovating a bathroom without windows, a skylight may be possible and, in many situations, inexpensive to install. Another option for bringing sunlight into a windowless room is by using solar tube skylights.
Your personal touch
Plan your master bathroom renovation with your own comfort in mind. Put yourself in the picture and consider your space and preferences. Create a layout for your bathroom and consider expansion into adjacent areas that aren't widely used, such as closets. It's possible to add skylights or windows where none exist. Do research on products that will contribute to your ideal master bathroom. There are many design options that will help you realize your dream bathroom.
Author Bio: Vicky Clary is the Marketing Director Curtis Homes, a semi-custom home builder of Southern Maryland Communities. Their Five Star Military Incentive Program assist military personnel move into the home of their dreams.