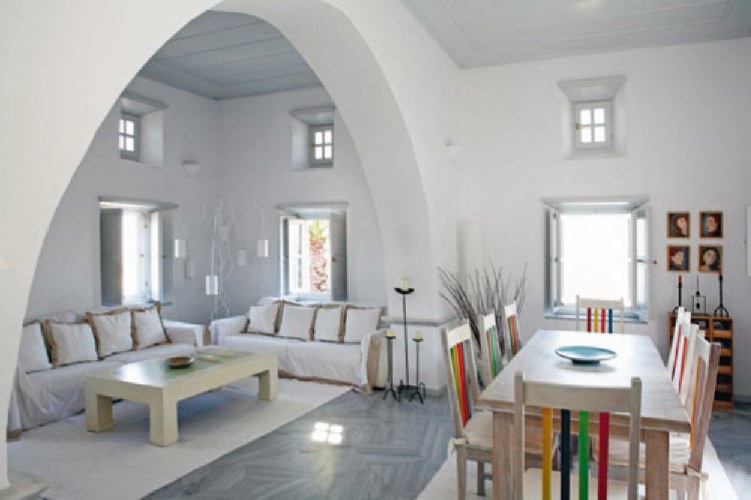 When thinking about summer, the Greek Islands come to mind. The Greek Islands are surrounded by water, beach, ruins and beautiful sunsets. Some of the Greek homes are built into sides of mountains or along portions of the beach. Because these homes are surrounded by water, using what you have on the island to decorate a home is common. When considering Greek inspired home decor for a room in your home, there are key elements that are consistent.
Simplicity
Greek islands have a simple look and feel with rooms filled with basic furniture needs. For instance, a bedroom may have a bed and dressing table but little else to crowd the room. And, the bed may even be low to the floor. Kitchen or dining areas will have tables, chairs and a hutch to store serving pieces. But keeping the room free of clutter is common in Greek design.
Color
In the Greek islands, blues and whites are very prevalent. These colors indicate a feeling of freshness and cleanliness. As an option, the blues represent the surrounding seas. Adding multiple layers of blue colors to either tables, walls or accessories will also make a white room pop with color. Where blues signify the sea, whites and creams often signify the sand. Which results in bringing the entire beach experience inside your home.
Fabrics
Using linen and cotton fabrics on window coverings, bed linens, throw pillows and table coverings will add color and texture to a room. These fabrics are light enough to keep the room feeling breezy or ocean like. And yet, play a role in adding design elements to a room. Natural light will easily enter a room using these fabrics on window coverings. Adding the Greek fret or Greek key pattern to the room decor will also further signify the room's identity. As this pattern is notoriously Greek, this is sure to indicate a Greek inspired home decor.
Natural Woods
In celebration of simplicity, adding natural woods to floors, furniture or even walls will create that rustic feel found in the Greek islands. Adding wooden shutters to walls, adds elements of nature and uniqueness to a room. Wood beam ceilings on white walls will stand out and create the rustic yet drastic contrast with the rest of the room design.
Adding these textures and elements to a room to give yourself a feeling of a Greek world is like living like the Gods of ancient mythology.