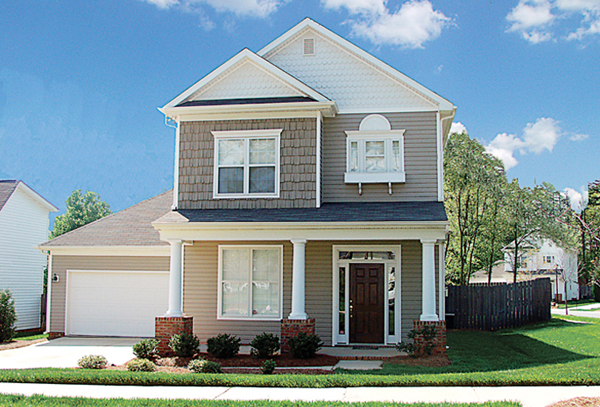 As an engaged or new married couple, you might be at the point that buying a home is the next step to building your family nest egg. If you are a first time home buyer there are a few things to consider when buying your first home. Understanding your living arrangements and how you and your spouse will live in your first home will be important.
For instance how many bedrooms do you need? Is a bedroom turned office important? Are you planning on children soon after getting married? Keeping in mind the number of rooms and what types of rooms are important to you can help with finding the first home that works for you.
Asking yourself questions like do you need a family room and a living room or will one suffice? Do you want a multi-story home or on a single level? Understanding what neighborhood is best suited to your lifestyle, understanding your budget and size of home you need is also important. However, there are six considerations when buying your first home that might not be top of mind but could impact your lifestyle.
 1. Work Commute
Spending time with your family is often overlooked when you need to manage your commute to work. Whether you are close to the office or far, this could impact the available time left to spend with your family.  If you have a short commute you can make it home for dinner or attend your children's after school events. Long work commutes can also create undue stress that might result in frustration in you arrival at the office or arrival back home in the evening.
2. School Districts
If you have children or are planning on having children, knowing which school districts your children will attend and the caliber of those schools can make a difference in the overall education and influences in your child's life.  Gathering detailed information about the schools both public and private in your potential new area will help develop a strategy on how you want your children educated.
3. Neighborhood Surroundings
Take a look at the neighborhood and where you would go to the grocery store or are their farmer's markets because you prefer a local food flavor. Is your home close to services you need like religious services, dry cleaning, nail saloons, workout facilities, physician's offices and more. If you like to play a more active role in your community, these types of services can become outlets to making new friends and learning more about your neighborhood.   When considering your neighborhood, also review the entertainment facilities like movie theaters, outdoor venues, restaurants and parks. These types of facilities might be important to you when moving to a new community.
4. Best Time to Buy
You may be more flexible when buying a new home if you do not currently have children or you might be in a position where a job promotion or relocation is crucial to your moving date. However, there are  times, when moving my cause undue stress to your family. Maybe you have family members with health issues and you want to remain close enough for support or you would like to take in to consideration your children's school year or weather conditions … too much snow can make it challenging to move.
5. Windows
Many people think that windows do not have that big an impact on buying a home. However, a first home with a lot of windows in a sunny location needs coverings or blinds to help manage the sun and therefore the heat inside your home. Single pane windows are older windows which can cause challenges in cold and warm areas forcing your HVAC (Heating, Ventilation and Air Conditioning) units to work harder during extreme weather conditions. Moving into a home with single pane windows might force you to consider replacing the windows which can be a large expense.
6. Review the Home During Different Times During the Day
A home has a different appearance during different times of the day. Morning sun might illuminate in a particular part of the home that may be a wonderful advantage or one that causes a lot of heat in a very popular room for the family may become a disadvantage. Evening sun can have a similar effect. Where the light hits the home during different parts of the day could impact your home's comfort.
A home is an large investment and can create beautiful memories, however a home that does not fit your needs could become more challenging and end of being an unhappy place to be which can cause more stress on your family. These six additional considerations are easy to add to your current list of considerations when buying your first home and can help you purchase the home you will love and build wonderful memories.