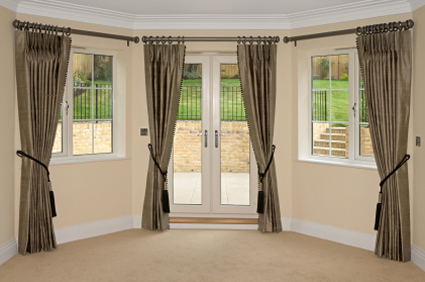 New draperies add a lot of character to rooms. Draperies can also introduce fabrics and colors that can either be the highlight of a room, or they can be an element that brings the rest of the room's decor together. Rooms like dining rooms, living rooms, family rooms and master bedrooms are common to invest in higher end custom draperies. Of course you can also find packaged draperies that will accentuate virtually any room as well. Bundling window coverings such as blinds is often budgeted with draperies in a room for a complete home remodel project. The functionality of your window coverings and draperies depends on the focus of a particular room and what works best for you.
Items to budget with new draperies
Remember that it is not just the draperies, but the hanging rods and labor needed for this project that will be apart of your budget. If you do not find prepackaged draperies and you want to work with a designer to help create the perfect look, you will need to include designer fees and possibly installation fees.
     Draperies
     Hanging Rods
     Labor
How to plan for new draperies
When decorating a room, sometimes the initial budget covers the furniture and wall decorations only. So many people hold off on the drapery piece until they can save up enough money to install custom draperies in certain rooms within the home.
It is important to decide if you want packaged draperies or if you have the budget and desire for custom draperies.  Determine the colors and fabrics for your draperies and the style of your draperies when incorporating these design elements into your room.  If you go the custom route, many designers can help you choose the right fabrics and colors to enhance your room's existing furniture, flooring, and paint colors.
Have fun and happy decorating!