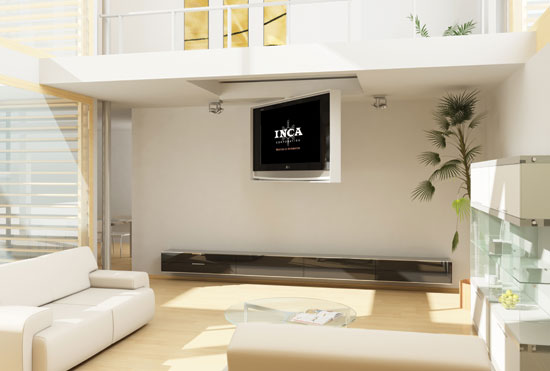 As technology continues to play a role in the way our world grows, it is also playing a role in the way our homes operate. We have televisions, radios, online music, video cameras and gaming systems. We have garage door openers and security systems. Now we have thermostats, carbon monoxide detectors and security systems that can be controlled by our mobile phones. How can all of these home electronics blend with the design and function of our homes? All this without compromising the look and feel of our homes.
Blending with Monitors
Monitors that flip down from underneath a cabinet have been used for a long time. Having these monitors in in your home help make it easy to hide the electronics or to put them away when not in use. These home electronic monitors are popular in kitchens to check recipes or check on children through nanny cams. Now you can get the same technology as it relates to your televisions. With a similar system involving cabinet design, you can get a design that hides your flat screen televisions when not in use.  These systems can fold or swivel your television.
Television Cabinets
If this home electronic system is not to your liking, then there are cabinets that raise televisions when they are ready for use. These systems provide a stylish look to a room and provide function by allowing small items to sit on top of the cabinet but review a flat screen television when you are ready to take in the latest episode of Homeland.
Furniture and Closets
Another way that electronics and technology blend in to your home is to leverage furniture or closets. These can store computers and other devices. This set up will also detract from the many cords needed to power this equipment. This set up is a great way to store your multitude of tablets and phones in a centralized location with all the power cords in one place.
Sound Systems
Blending your electronics can also be completed with the best sound systems. Investing in a whole house audio system will give you speakers throughout your house. This system will also give you a clean look, as they generally blend into your ceilings. Additionally, keeping speakers in cabinets with mesh fronts is another way to keep those speakers out of site.
Universal Remotes
Using a universal remote will be helpful in reducing the number of remote control pieces. This will also help with concealing devices around your home. There is nothing worse than having four remotes and you cannot figure out which one works. Determine what you need in your home and find the best remote control for you. .
As we continue to add more technology and home electronics into our home, we will develop more techniques in concealing or blending our technology into our living space.