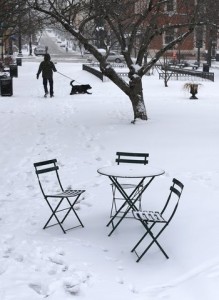 Just because the temperatures are dropping doesn't mean you have to stop using your home's outdoor space. These cooler winter months can actually bring ample opportunities for getting outside and spending time with loved ones. In winter, as throughout the rest of the year, you need outdoor furniture that can withstand precipitation and changing temperatures. With that in mind, here are a few tips for choosing the right kind of tables, chairs and other patio furniture that will last throughout the winter months and turn your patio into an enjoyable part of the holiday season. In order to pick outdoor furniture thatcan last all year, follow these tips.
Look for Resilient Furniture Materials. While some patio furniture is made of materials that have to come inside during winter months, there are other options that can withstand the harsher season. Synthetic wicker, for example, is a durable material made to be outside all year. Treated woods such as pine will be resistant to water and rot, and metal is one of the most long-lasting furniture materials, provided it is cared for properly. You can also look for tables and benches that are coated with extra protectants to seal them from weather damage. When you want patio furniture that can last through the winter season, you want to pick some of these more resilient, long-lasting materials.
Choose Products You Like. Even the most resilient outdoor furniture doesn't mean much if you don't enjoy using it. So when you're shopping for patio furniture, be sure to look for stylish, comfortable options you will want to use. Ask yourself if you can imagine sipping hot chocolate and/or having outdoor parties on the furniture you're considering — and make sure the answer is "yes" before you commit to buying.
Get Winter Covers. Covering your patio furniture when it's not in use is a good way to protect it during winter. There are many kinds of covers on the market, so use them to shield your patio equipment as desired. While covers are not always necessary, they are usually helpful, both in keeping your furniture clear of debris and protecting it from weather damage.
Add Protective Shade Structures. Whatever type of outdoor furniture you have, you can enhance durability by covering it with the appropriate shade structures. When there's a heavy snow or rainfall, shade structures add a little extra protection to your furniture. This safeguarding also comes in handy in the summer, when the sun's harsh UV rays can damage patio equipment. Look for shade structures that are made of resilient materials, add to the aesthetic value of your patio and provide adequate cover to your sitting areas.
Practice Good Upkeep of Your Furniture. Depending on what your patio furniture is made of, it will need different types of upkeep in the winter months. Any kinds of cushions or fabric will probably need to get put away except in very balmy climates. Aluminum patio furniture can stay outside, as long as you don't let water get in the frames where it could freeze. Cover or store natural wicker, steel-framed or wrought iron equipment, but never cover wood patio furniture as that can lock in moisture and cause mold or mildew over time. Any stone furniture needs to be sealed. Finally, all-weather furniture is safe to leave outside, but you also have the option to cover it to prevent debris from getting onto it during rains or wind. By taking care of your outdoor furniture, you'll extend its life and give yourself something to enjoy for years.
From the festive holiday season to the early months of the new year, winter still provides opportunities to get outside, especially when you have the right outdoor space. Follow the tips above to select and care for the kind of patio furniture that will last well into the future for your property!
About the author: Jeff Caldwell is Brand Manager of Superior Shade (http://srpshade.com/) in Carrollton, GA. Superior Shade provides protection from inclement weather with custom protective shade products. We provide custom products for schools, parks, commercial properties and more.