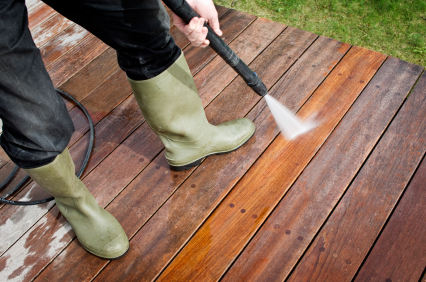 Guest Blogger:  Jessica Kyriakos
No, it's not spring yet, but these final winter months are the perfect time to get your home ready for the season ahead, particularly on more temperate days where it's easy to get outside. Even before the flowers are back in full bloom, you can take steps to prepare your outdoor space or patio for the greener days to come. Ready to get started? At the first preview signs of spring, here is what you need to do to prepare your outdoor areas!
Power Wash the Deck or Patio: Whether you have a stone patio or a wood deck, it's common for winter to leave all kinds of surface debris. So before you pull out the patio furniture you've had in storage (or take the covers off the furniture still outside), give the area a good washing. Whether you purchase a pressure washer or rent one for the day, power wash the surface of your outdoor space to remove leaves, dirt and any other items that have collected there.
Scrub Down Furniture and Cushions: Just like you clean your home's outdoor surface areas, you also need to scrub your outdoor furniture. Freshen up these pieces by wiping them down and touching up any rusted areas, paying particular attention to what sort of car specific materials need, says Francesca Clarke at Homesessive.com.  For teak furniture, you can use a simple blend of dish soap and water to clean, and a teak oil or teak protector to insulate. For iron materials, you can sand away corroded areas and use a mild dish soap to clean any stains. Aluminum does well with hot water and vinegar for a cleanser, and wicker is fairly easy to vacuum and wipe with a warm cloth. Plastic furniture may be cleaned with a blend of warm water, vinegar and dish soap. Likewise, if you have an outdoor rug and/or landscaping lights, give them a good inspection and take care of any damages.
Pull Out the Flower Pots: It's almost time to plant greens and flowers again, filling your yard with color and life! Celebrate the coming season by taking out your pots and planters and prepping them for use. Scrub them thoroughly, but don't use soap or chemicals that can contaminate potting soils later, according to Darren Ryan at Home Depot.
Add Mulch to the Flower Beds: Your flowerbeds will also get to be used soon, so clean out any stray branches or debris that's gathered there and lay fresh mulch. As warm and wonderful as spring can be, it's also notorious for the occasional cold snap — but adding mulch to landscaped areas can help insulate plants from damage.
Get the Grill Ready: It'll be grilling season before you know it, so bring the grill out of hibernation in these in-between months. Use a wire brush or scraper to get rid of charred food stuck to the grates, and/or soak grates in hot, soapy water for a half hour before scrubbing with steel wool. When you start using your grill again, try to spray oil on the grills before cooking — which will make cleaning easier.
When the calendar brings spring in a few short weeks, make sure that you and your outdoor living areas are ready to enjoy it! Use the tips above to prep your deck or patio for the warmer months, and you can begin making the most of outdoor enjoyment as soon as possible. While caring for your outdoor space may take a little prep work today, it will pay off tomorrow with backyard barbecues, evenings eating dinner outside, and afternoons lounging by blooming plants on your patio.
About the author: Jessica Kyriakos is Brand Manager at Webcoat, Inc. (webcoat.com) in McAlester, OK. Her 15 years of experience in the site furnishing industry brought her to her current role in the company. Webcoat provides outdoor amenities, like park benches, trash receptacles and patio seating for your outdoor space.