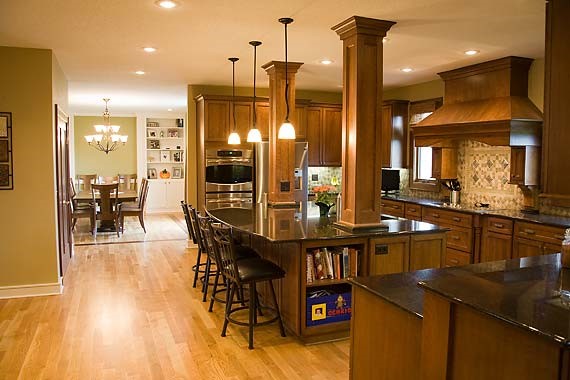 Guest Blogger: Joel Cordle
There are many possible reasons why you may be selling your house. Regardless of reason, be prepared for this uphill battle since this is no easy task. The real estate market is hard to predict and you never know when and how much you will be able to sell your house. However, there are 4 easy things that you can do to at least fix this and improve the value of your house.
Improve the Kitchen
The kitchen is considered the heart and soul of the home so it wouldn't be surprising that it is one of the places that potential buyers look at first. If your kitchen looks like one of those sets from a 60's comedy show, then it would be difficult to sell your house for a good price. You don't necessarily have to change the cabinets and cupboards, though. A fresh coat of paint in a neutral color and some slightly modern accents and accessories can go a long way.
Freshen up the Bathroom
Another area in the house that potential buyers always tend to scrutinize is the bathroom. It is a place where people do their private businesses so it should be comfortable and relaxing. Make sure that it is free from any major problems and damages and try to update the fixtures as much as possible.
Just like the kitchen, if you bathroom design is stuck in the past, it would be a lot difficult to find a buyer for it. You don't necessarily have to demolish the bathroom and rebuild it anew but giving it a fresh makeover a some good scrubbing to make the tiles clean will certainly go a long way when it comes to the look and appeal of the bathroom.
De-Clutter the House
If you want your potential buyers to make a mortgage loan for your house then you will have to ensure that their first impressions are good. When they see massive amounts of clutter, then you're off to a bad start. Even if all these things will be removed when you move out, to the potential buyer they will attach that clutter to the value of the house making the impression less favorable.
Also, buyers would like to visualize themselves living in the house. They want to think where they will put the couch or the drawers or the book shelf. If the house is too cluttered, they won't be able to visualize this placement which can make it hard for them to see the idea of living in that house.
Proper Lighting
Just as how unnecessary clutter can decrease the impression your house can give to buyers, poor lighting will also have the same effect. If the house is not well illuminated, it will appear smaller and dirtier that it actually is. If you can, replace the broken light bulbs and install more to make the rooms look bigger. If possible, open up the windows and curtains to let natural light in.
In most cases, these are simple fixes that you can do to make your house more marketable and appealing. These may be small steps but can greatly affect your chances of selling the house.
About the Author: Joel Cordle is working for Dwellaware. DwellAware provides a online search web application to help prospective homebuyers easily and confidently find the most comfortable, highest quality home that best match their needs.