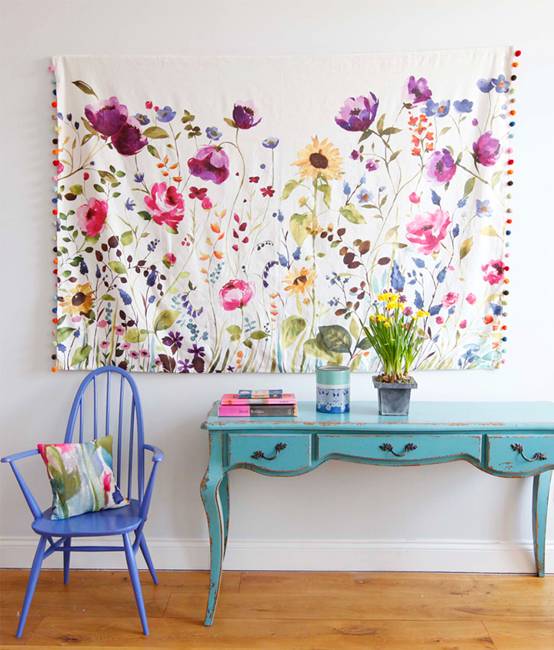 Summer brings about bright and sunny days, beach weather and bouquets of delight. Sometimes it feels like everything is better in summer with the colorful landscape of flowers. Yards and parks are in full bloom. Why not bring the floral concept indoors to create a lighter, summer feeling. Summer time home decor can also get everyone in the mood to celebrate the weather and enjoy this time of year.
Fresh Flowers
Adding fresh flowers is the most immediate way to introduce the floral concept. Whether you can create a bouquet from your backyard beauties or you take a quick trip to your local florist or grocery store, adding fresh flowers to a room brightens the area. And also brings in the beautiful scents that go along with these floral additions.
Accent Pieces
Floral design can be incorporated into a home by adding accent pieces like throw pillows, a print, rugs, or a floral sculpture or figurine. Using accent pieces as your floral design element, you will find the flexibility to change out these pieces during different seasons. Thus, creating a new look and feel to your rooms.
Creative Walls
Changing up a wall or adding floral decals can bring life to room. You can find flower decals as big as you if you want to add some zest to a wall. Painting a wall with your favorite flower, adding decals to create your inside garden or adding wallpaper in a floral print can definitely add the flowers to your home decor.
Maybe you have this brilliant floral print chair or sofa that you really want to highlight during the summer. Make it stand out by removing accent pieces that might diminish the beauty of these pieces of furniture. These pieces might need to stand on their own in order to for the prints to stand out!
With a few of these tips, summer could be walking right inside your home.  Bringing the flowers inside just might make anyone bright with sunny smiles!