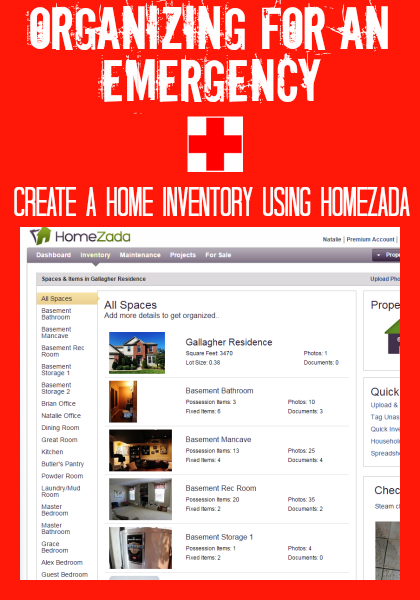 There are a lot of reasons to create a home inventory. From natural disaster risk, burglary, house fires, maintenance damage to your home and a vast amount of other reasons. One user, Natalie Gallagher, realized that National Preparedness Month was a great time for her to get her home organized. She recognized for that "just in the case" situation an inventory was a good thing. Natalie uses HomeZada's home inventory functionality because of it's ease of use and time saving features. She also liked the value of uploading photographs and documents to create a centralized account about her home. Let Natalie show you her approach to using HomeZada. And watch her help you understand how you can create your own home inventory easily and efficiently. You can read about Natalie's HomeZada experience here.
We're half-way through National Preparedness Month. Hopefully, you've been able to devote some time to ensuring that your household is properly set up to weather a natural disaster (no pun intended) and/or emergency situation.
Natalie's Experience
Part 1 and part 2 of the Organizing for an Emergency series focused on protecting your vital documents. Today, I'll wrap up the three-part series by outlining a step-by-step process for creating a home inventory using one of my favorite tools for organizing home-related information.
I was introduced to the HomeZada digital home management tool at the 2014 National Association of Professional Organizers (NAPO) Conference. I was immediately smitten with this product and could not wait to explore all of its many features. I've been using it over the past year to manage our household maintenance tasks and our home improvement projects.
Natalie updated her home inventory with the most current version of HomeZada and she speaks of this new experience here.