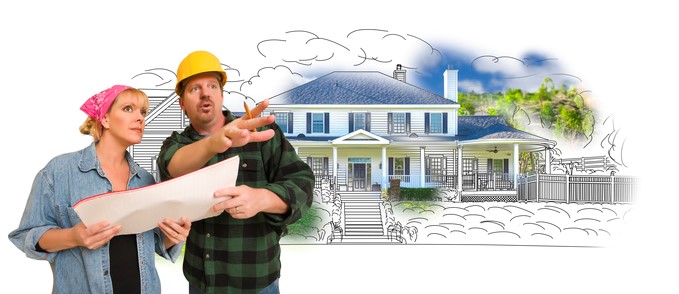 Guest Blogger: Lili Schatz
Few things can be more rewarding than creating your own dream house. Nothing else could be as uniquely yours as a home you have helped to design for your family. You'll be able to make decisions both small and large regarding any detail of the home you might want. And see to it that your custom home contractors leave you with a living space that you can be proud of. The process, however, is not without its difficulties. Here are five of the most common snags that can occur when building your dream house:
You don't have a realistic budget
 While many people may think of custom home contracting as being prohibitively expensive, this doesn't necessarily have to be the case. Actually, once you have acquired a lot or some land to build on, the process of constructing your home can be fairly affordable. However, before you begin considering what features you'd like your new home to have, it's essential that you sit down and hash out a realistic budget. Review all of your options and decide which ones work best within your price range, and stick to those once the project begins.
You don't choose your lot carefully
Of course, building a custom home requires a space to build on, and deciding where to construct your new house takes a bit of planning. While your custom home contractors will be able to build you a home nearly anywhere, you should consider other factors when making your choice.
Consider, for example, any zoning restrictions in your area. If you are thinking about building a large house with a large garage, check to see if that is allowed on the lot you have purchased. Many builders also decide to purchase an area with an older house on it in favor of having that house torn down and replaced with their custom project. This can be a great choice, since it can potentially save you money. But some neighborhoods don't look favorably on tearing down standing houses. In many cases, solving this problem is as simple as speaking with your future neighbors. And convincing them that a new house will help to raise the property values in the area.
You forget about the flow of the home
When you have your lot picked out and your budget set up, it's easy to get caught up in all of the possible features you can have in your new home and forget to consider things like flow. While good custom home contractors can give you plenty of advice and tips about this. Ultimately you are the boss when creating your home and it will be your decisions that most affect the outcome.
Things to consider, for example, are the locations of bedrooms in the house. Remember, people will be sleeping there. So make sure that you put them in a quiet area (i.e., not next to a busy living room.) Do some research to discover where the best positions for all of the rooms in your new home are.
You try to make too many changes
Once you have gone through the process of design, finalized your budget and begun construction of your new home, it is still possible to make changes. Sometimes inspiration will strike and you'll come up with a great new idea you had not considered before.
While a good custom home builder can certainly work with you on this. Try not to overdo it with too many changes. When you put in change orders, your builder may be forced to push up the deadline and your house may not be completed as soon as you would like. Extra costs may also be incurred, as unexpected changes can lead to unforeseen costs. Do not let this discourage you from altering your plans as necessary. However take care to plan properly to minimize the need to do so.
You fail to take the advice of your builder
Hiring custom home contractors means getting access to their years of experience and training in the design and construction of houses. Of course, you will have a vision of exactly what you want your home to be like. And a good contractor will work closely with you to realize that vision.
However, prospective home builders can often be stubborn when it comes to their vision. Some builders might ignore advice from the contractor. If you are committed to the idea of a particular building material, for example, and your custom home contractor recommends a different one, consider why. In most cases, your builder's advice comes from years of experience designing and building homes. While the ultimate choice is yours. Of course, it's important to be fully aware of the details when you are undertaking a project.
With these thoughts in mind, you should be well on your way to start building your dream house!
About Author:  Lili is a blogger who has been working as a freelance writer for a long time. She writes about topics related to Home Improvements, Maintenance, Decor, furniture.