Reorganizing can make you feel more calm and focused. However, you may not know how to get started. A good way to begin is to turn to the art of feng shui. Rooted in Asia, this ancient philosophy seeks to harmonize the environment around you and encourage the flow of life force energy, or "chi." It may sound complicated, but it's actually a straightforward practice. Learn a few simple ways to use feng shui to improve your office and desk. You can get started the next business day and begin immediately on your way to a more relaxing and enjoyable office experience.
Decluttering Reduces Anxiety
Removing clutter from your office isn't only more visually pleasing—it's also an excellent stress reliever. According to Psychology Today, there are a variety of emotional and psychological benefits to decluttering your space, including helping to reduce anxiety and tension. Additional benefits include improving confidence and competence, a feeling of increased energy, and the ability to focus on something else other than the stressors of projects or client challenges.
One of the pillars of feng shui is the necessity to remove unwanted items and energy. The idea is that when your space becomes more clear, there is more room for both natural light and positive energy. As soon as you arrive back to your office, throw out or shred old mail and unwanted paperwork. You may also decide to remove decorative items or artwork that no longer suit you. Extra furniture may clutter your space. Decide if you really need that extra end table or chair.
Aromatherapy Improves Mood
Since aromas and scents can influence mood and help to shift energy, they are an essential part of any feng shui practice designed to relieve stress or worry. If you're interested in using aromatherapy for feng shui in your office, start by choosing a few essential oils. Lavender, ylang ylang, and bergamot are some of the most relaxing essential oils around. You may also like orange, yuzu, or neroli essential oils for creating a more peaceful and soothing feeling.
One of the best ways to do aromatherapy at work is to use an essential oil diffuser. Place 8-10 drops of your favorite oil into a diffuser, then let it fill your space with calming scents and positive vibes. You can also purchase an essential oil roll-on or body lotion that you apply to the skin. If you have a home office or can use candles at your workplace, essential oil candles are another possibility. Along with the gentle aroma, you are sure to feel more relaxed by the flickering glow of the flame.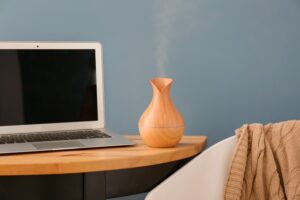 Repositioning Provides Order
When your workspace feels out of order, it can quickly increase feelings of stress. Feng shui says that you should reposition your furniture to feel more in balance. According to The Spruce, you can start by placing your desk in what is known as the "commanding" position. Place the table so it faces your office door. While you'll always be able to see what's going on outside, you may also feel more in control of your workspace and your day.
If you have a bigger office with a seating area, group chair and small tables together. Feng shui says this is how conversations, ideas, and energy will flow more easily. If you can't place your desk or seating furniture facing the door, put a mirror behind it. It'll help you see what's happening behind you, while also allowing natural light to flow throughout your space.
Window Coverings Brighten Your Space
According to feng shui expert Bridget Saraka, windows are known as the "eyes to the soul." When you keep your office windows clean and looking fresh, they are said to help you to gain a clearer perspective on your space and your workday. Start by wiping your windows and sills down at least once a week. You can also purchase a small dusting tool with a handle to keep in your desk drawer.
Once your windows are nice and clean, it's time to evaluate your window coverings. If your shades are too thick, look worn, or feel outdated, they may be affecting the energy of your space. Replace the old blinds with lighter materials and neutral colors, which will help to promote the flow of chi, as well as natural light. Woven bamboo shades and wood blinds are an excellent choice because they filter brightness while letting in the perfect amount of sun. They also offer an Earthy aesthetic and look clean and neat inside every window frame. When it's time to leave for the day, unfurl them for maximum privacy.
If you have large windows that you can leave open during the day, consider vertical blinds. These popular window coverings easily slide open and closed with the help of a cord or wand to provide the best view and most sunlight. Choose a neutral color, such as white or cream, to keep the vibe bright and airy. Before you clock out, use one hand to pull the shades closed again. The vinyl material enhances security and privacy while keeping your office nice and cool before the workday begins.
Color Creates Calm
You can use various colors to create a stress-free environment. According to the feng shui experts at HGTV, blue or black walls can help to make you feel more calm and relaxed. They also increase the water element within your office, which encourages you to concentrate and work with a measured approach.
The color green can add a calming, Earthy energy to your space while also helping to inspire growth. Lavender is soothing and encourages a feeling of serenity. Metallic colors can evoke a cool, pure energy. If you can't paint the walls, add colorful decorative pieces. You can also drape your sofa with a bold, jewel-toned blanket or place flowers on your desk.
Using Feng Shui for a Tranquil Workday
Even if you love your job, it can get stressful. By considering the look and feel of your office, you can add both peace and a new energy to your workday. Focus on what you can control about your interior décor and your desk, so you feel more confident about your work or your role. You may also find it easier to recharge and re-energize after a challenging morning or during a difficult project. Try a few of the strategies above, then gauge how much calmer you feel. It could be the catalyst to a whole new outlook on your office and career.
About Author:
Kenneth Gordon serves as the Assistant VP of Factory Direct Blinds. Kenneth is responsible for overseeing the planning, development and execution of all Factory Direct Blinds marketing and advertising initiatives.
Before joining Factory Direct Blinds, Kenneth served 6 years in the United States Air Force as a Military Police Officer.
Kenneth enjoys spending time with his two sons and beautiful wife Brittany when he's not working or writing.