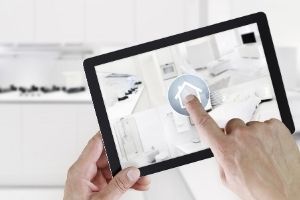 Unless you live under a rock, you've certainly heard about home automation, or what most people call "smart homes." The idea is that you allow technology into your home to make your life easier, and it's actually really cool. If you'd like to learn about the advantages of having a smart home, check out our guide below.
Your Energy Bills Will Go Down
Homeownership comes with a wide array of bills such as your mortgage, emergency repairs, and utilities. Of course, there's not much you can do about your rent or mortgage, and emergencies happen, but you can do something about your utilities and energy use. For most homes, their biggest utility bills stem from their heating and air conditioning usage. You can install a programmable thermostat where you can schedule your home's temperature throughout the day, and this is just one of the great benefits of smart home technology.
It Protects Your Home and Family
There are hundreds of smart home accessories that can enhance your home's security, including smoke detectors, cameras, and automated locks. By implementing the many security accessories available, you can easily keep yourself and your family safe – even remotely. So, if you're in the office or on vacation, you'll be notified if someone arrives at your front door or if a smoke detector goes off.
It's All Around Convenient
All things considered, the primary benefit of smart home technology is convenience. Let's say you leave the house and forget if you locked the doors or closed the garage. Now, you can take care of that from your smartphone! By pairing your smartphone with other smart home gadgets, you can conveniently see how much longer your laundry cycle has. Or maybe you want to control the lights from a different floor – you can even control the lights when you're not at home. If you're still not convinced that a smart home is worth it, then consider that you could turn your home theater on and off from your phone. The best part about home automation is that it applies to every and any part of your home, from your utilities to your home theater. In addition to the basics of a home theater, it couldn't hurt to incorporate the convenience of smart home technology there too. Or, if you wanted to have music playing before you walk in the door, you can trigger that from your phone as well.
All this said, you can significantly enhance your home with the many advantages of smart home technology. What do you think? Are you ready to incorporate technology into your household?
If you like this, check out these posts.
How To Properly Use Smart Home Tech To Save Energy
4 Quick and Easy Smart Home Projects