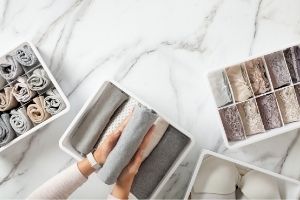 Though it can be overwhelming, decluttering your home is entirely rewarding. Reducing the amount of unnecessary items in your home can help prevent unnecessary stress and promote a more serene, relaxing environment. Employ these top tips for decluttering your home to promote your home's cleanliness and your overall wellbeing.
Make a List
The first top tip for decluttering your home is to make a list. This will help you set clear goals for your clutter-removal attempts. Putting a course of action on paper will hold you accountable. In addition, breaking down the steps you need to take will make the decluttering and cleaning process much more straightforward.
Section Times
Dedicating specific time slots for ridding clutter will help prevent the process from seeming like a massive chore. For example, break your decluttering scheme into 5- or 10-minute sections to make the task more feasible and practical for a daily basis.
Categorize
Categorize and prioritize which segments of your home produce the most clutter. Recognizing problem areas in your home will give you a rough idea of how much time will be necessary per room or section of the house.
Donate
Secondhand shops are a popular place to bring items you no longer need or want. Thrift stores provide an abundance of gently or unused materials for a fraction of the original price, making certain items much more accessible.
Another location to bring your surplus of items is a homeless shelter. As the weather gets colder, homeless shelters need more resources as they experience an influx of people.
Donating provides resources for your community and intrinsic value to you at no cost. Though donation drives are most recognized during the holiday season, most are happy to take donations year-round.
Keep Record
Write down all that you are either throwing away or donating. Reference your initial declutter list to see if you are making good strides. This will prove your progress and keep you on track to achieve all your decluttering goals.
Another way to record your feats is to take a before and after photo of the space you are targeting. A photo serves as visual evidence of your triumphs, and having a 'before' photo can help deter you from returning to old clutter habits.
If you need more help organizing, check these out:
7 Craft Organization Ideas You Can Use Today
5 Simple Bathroom Organization Tips You Need to Read Right Now