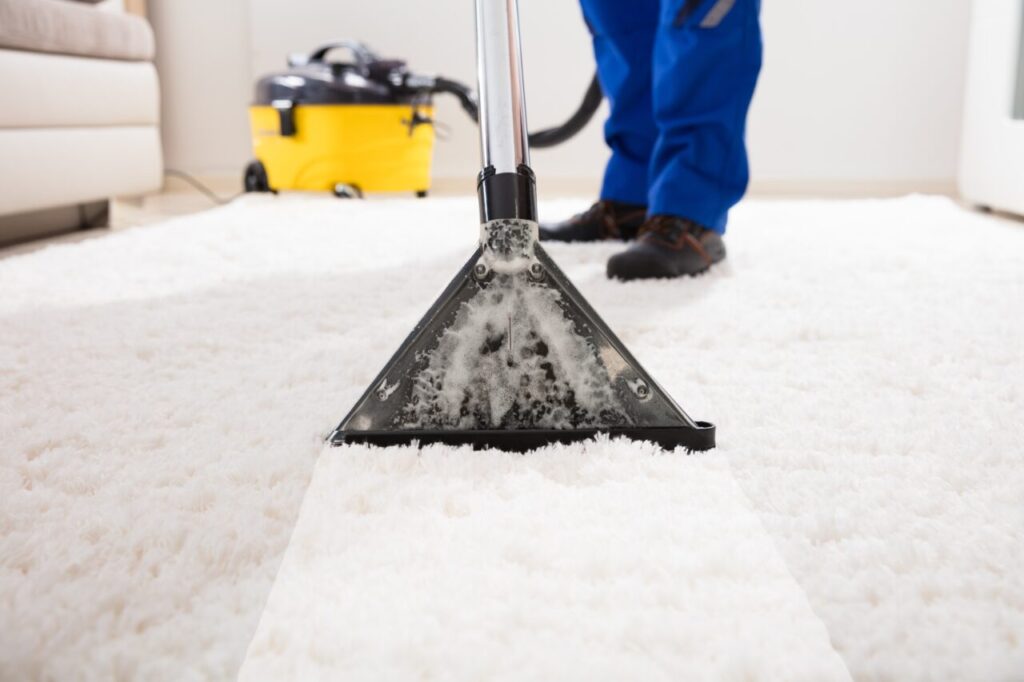 Every type of flooring requires a unique and distinct way of cleaning. Most people use whatever they want on the floors, which is the reason why floorings that are supposed to last for several years are already damaged in just a few months.
Stains on the floor are not too hard to remove, but you need to know the precise way of removing them. We will give you a few simple tips on how you can effectively clean different types of flooring and handle those pesky stains before they ruin your floor.
How to Clean a Vinyl Flooring
Vinyl floors can take a beating so it is often a popular choice even in the high-traffic areas of the house. Cleaning it is very easy as well so most people don't really care much if they spill something on the floor.
Cleaning vinyl flooring is very simple because you just need to clean it with a wet mop. However, anything that can cause a stain should be wiped as soon as possible. If you let certain chemicals stay in the flooring, it might cause discoloration or damage.
It is very easy to clean, but you have to make sure that you will clean the area as soon as possible to avoid serious damage.
How to Clean Wooden Floor
Wooden floors are probably one of the hardest to maintain. Cleaning hard wood floors is basic. If you failed to maintain it, you may need a water damage restoration company in Las Vegas, especially if the problem is related to water damage.
Wooden floors can be cleaned with a mop and water. If you can do this at least 4 to 5 times a week, you can prevent any serious cleaning on your wooden floor. You have to remember that the best way to maintain your hardwood floor and keep its elegance is to prevent damage.
You can use a vacuum with a floor brush attachment, but you should avoid a beater bar attachment as it can damage the floor's finish. You can also use a cleaning agent that is made specifically for different types of wooden floors.
How to Clean Marble Floor
Cleaning marble floors are a bit tricky because you cannot simply use any detergent or cleaning agent as it might damage it. For starters, use soft mop heads to clean the surface. You can use water if you only want to remove dirt and dust.
For deep cleaning, use hot water and a PH neutral cleaning agent to make sure that the marble will not experience discoloring. A marble sealer is also needed to seal off the micropores of this material. It has a porous quality, which makes it vulnerable to moisture. Putting a layer of sealant will prevent dust and dirt from sticking on the surface.
How to Clean Ceramic Tile Floor
Among the different types of flooring, ceramic tile floors are the easiest to clean and maintain. If something is spilled on the floor, you just need a wet mop to remove it. You can try using a neutral floor cleaner on occasion.
You will need to consider the grout lines on the flooring. They have to be cleaned properly and you have to make sure that there is no dust or dirt stuck between them. You should never use an abrasive cleaner on the floor because it can damage the glaze.
How to Clean a Natural Stone Floor
Natural stone floors don't require any fancy cleaning methods. All you need is a mop and floor cleaner. Make sure that you wring the mop well before you start mopping the floor. You do not want to leave behind a lot of water.
You can spray the cleaner on the floor and wait for a few minutes before you mop it. Or you can put the cleaner in a bucket of water and dip your mop.
Conclusion
Cleaning different types of flooring is not hard as long as you know what you should and should not do. There are floorings that are very delicate. And there are some that don't require regular maintenance. To prevent damage, clean your floors regularly.
Author's Bio
Claire Zimmerman is an enthusiastic and creative writer at AllState Service Group. Her main goal is to spread information about home remodeling and interior design trends. 
If you found this post valuable, check out these:
7 Benefits of Luxury Vinyl Flooring
Top 5 Reasons to Have Your Floors Professionally Cleaned