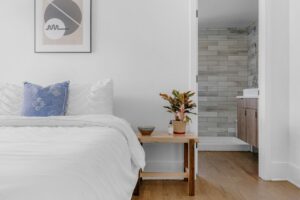 Designing the ultimate bedroom is often a source of stress and a bit of panic. After all, you want to make it absolutely perfect and as cozy as it can be, tailored to your personal needs and preferences.
But with so many options available for everything from the wall colors to the pillowcases, how can you be expected to make a choice without any anxiety about making the wrong one?
Let's take a look at the 6 essentials to bear in mind when designing a bedroom, in an effort to reduce that stress to a minimum:
1. Start with the Bed
Allow me to make a very bad joke here, but it's called a bedroom for a reason. Your main focus when designing it needs to be the bed.
Start with the size. You want a mattress that you will be comfy with, and that can also fit into the space nicely. A queen-size mattress is usually a solid choice – it's not as large as a king, but it still provides plenty of space even for the more restless sleepers.
Try to angle it so that you don't get hit by the morning sun directly. You want a light wash of light waking you up, not bright rays shining directly into your eyes.
2. And Its Accessories
Once you have the bed down, you also want to consider the bedding. Pillowcases, blankets, throws and other easy-to-change elements are great for changing the mood, with the seasons of when you feel you need to add something fresh to the space.
Try to go for natural materials that will help you sleep better, that are breathable and easy to maintain. You don't want to have to run to the dry cleaner every time you need to change the sheets.
3. Consider the Storage
The storage space in a bedroom is often that point of contention you are not sure what to do about. You want to have plenty of it, but you also don't want it to crowd the space.
If you've started your decorating adventure with the bed and you're happy with its size, you can then add any storage elements you can reasonably fit. For your clothes, go for closed structures that make clever use of the available space. That includes height-adjustable shelves, plenty of rails, and racks.
If you want to store books and other shelf-appropriate items in the bedroom as well, consider the dust factor. Try not to house anything above your head, and go for elements that you won't have a hard time wiping and cleaning.
Remember, the more tiny items you have on a shelf, the more difficult dusting will be, so consider how much time you want to spend on maintenance before displaying a collection of figurines on an open shelf.
4. Choose a Very Soft Rug
Waking up to a cold floor underfoot can easily make you feel like you've woken up on the wrong one. Choosing a soft rug will make the room feel more cozy and relaxing, and provide that much needed morning softness.
Chunky rugs are wonderful to walk on, but they do tend to store a whole lot of dust and crumbs. So, try to go for something that's not as deep, but make sure it's made of natural or organic materials that will add a touch of elegance to the room.
5. Adjust Your Windows
Whether you have blinds or shutters, a curtain or no curtain, you want to be able to shut out the daylight from the room when the mood so strikes you, so go for a solution you can handle with ease. If you have to dismantle a complicated structure every time you go to bed, you will soon start to resent those antique blinds.
Blackout curtains are also a great way to keep the room cool and dark when you need to, but then again, you may prefer a bit of natural light even in the middle of the night, so choose the density of your curtains with care.
Make sure you can air the room often, and that you also figure out a way for bugs, moths and other insects to invade your space.
6. Tailor It to Yourself
Unless you absolutely prefer that hotel room feel in your bedroom, add a personal touch. This can be a piece of art, the books you choose to display, the photos you place on the walls, or any other decorative element you bring into the space.
Be careful, however, as you don't want to make the room too personal. You still want to be able to rest and relax at the end of the day, so keep it light and semi-neutral.
Final Thoughts
Hopefully, this guide to designing the ultimate bedroom will help you avoid some of the inherent stress that comes with (re)decorating a space in your home. Always go for what feels right and natural for you rather than listening to the critics and interior design magazines. If it works for you, embrace it.
For more blogs on this topic, check out these blogs:
Revamping Your Bedroom in 2021: Where to Save and Where to Splurge
15 Lazy Bedroom Organization Hacks You'll Wish You Knew Sooner