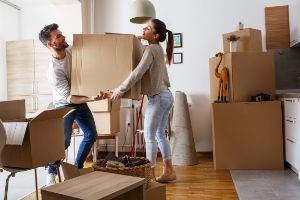 There are many milestones in every person's life. One of those is moving from your parent's house to your own. However, an efficient move is not easy because there are many considerations to think about. To help you make a smooth transition, check out this complete checklist for moving into your first home.
Hire Help or Find Some Friends
As with any major undertaking, you're going to need help. There's nothing wrong with asking friends or family for assistance. That friend with a van or pickup truck will be perfect for moving large pieces of furniture, appliances, or other large items. Even just having extra sets of hands can drastically reduce the move-in time for you. If you can't find anyone to help, it might be wise to hire professional movers. This eliminates the stress of the move and allows you more freedom to design your new home.
Make Necessary Repairs
Your first home may not be an upscale mansion or condominium, and that's perfectly okay. Making home repairs is an intimate part of the homeowning experience. Whether you need to weed the lawn or put up drywall, take this opportunity to create the home you want. Like moving, it might help to hire professional carpenters, electricians, or plumbers for extensive repairs. For small repairs, grab some friends or look up some DIY tutorials, drive to your nearest hardware store for supplies, and get to work.
Get Essential Appliances
When you own a home, you must stock up on essential appliances and supplies. Since you're a first-time homeowner, it may be worthwhile for you to learn about suitable appliances for smaller homes. An in-home washing and drying unit can save you money and time since you won't need to go to laundromats. Also, your home should come with an oven and stove unit, microwave ovens, rice cookers, air fryers, and other appliances that might be useful for simple cooking. Don't forget to load up on small items like detergent, dish soap, cutlery, silverware, plates, pots, pans, and any other utensils you might need.
Tailor It to Your Needs and Preferences
The last point on this complete checklist for moving into your first home is to remember it's your abode. You have the freedom to customize it to your preferences. The art, décor, furniture, drapes, curtains, and even paint you have are entirely up to your choosing. There are endless possibilities to pursue based on what you like. The most important part is to design a home where you feel comfortable, secure, and happy.
For more blogs to help you move, check out these posts:
5 Must-Do Things When You Move into a New Home
First Time Homeowner? Here's The Move-In Checklist That Will Save You Stress