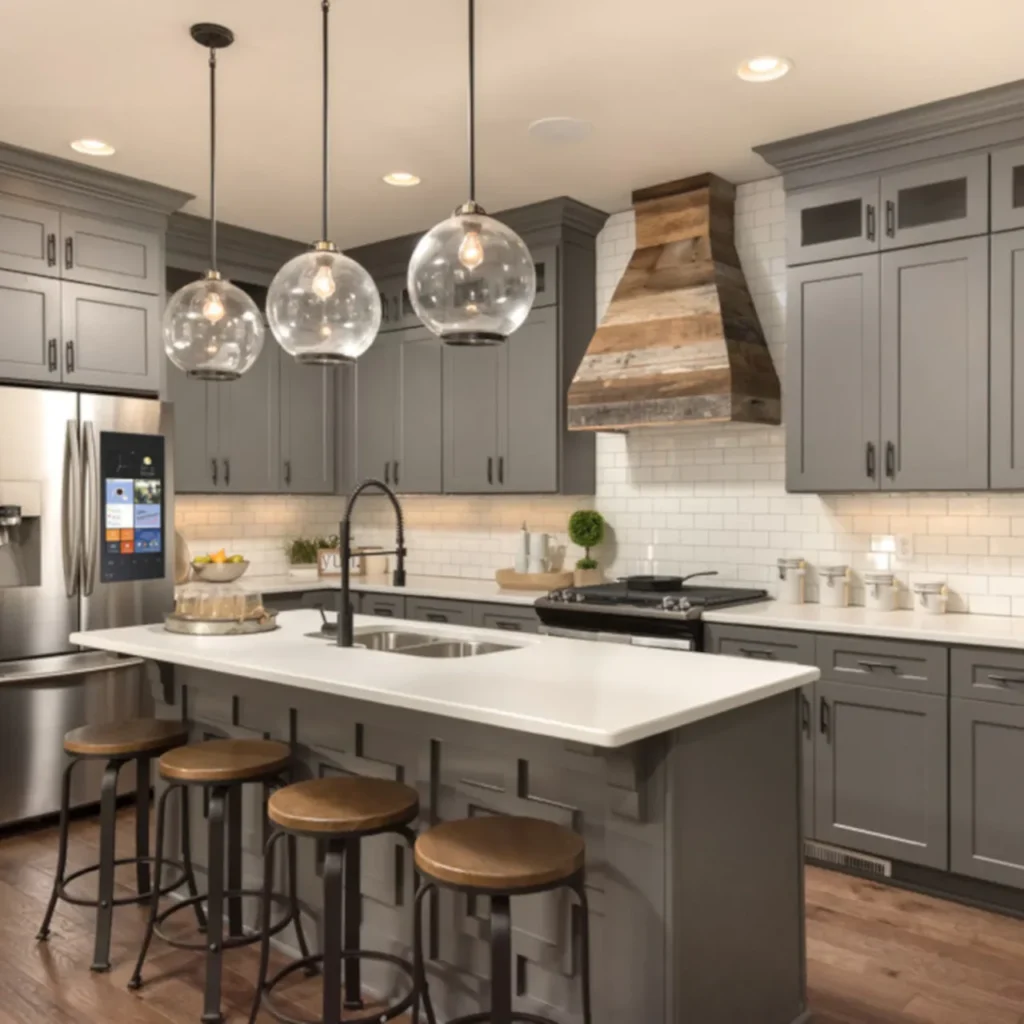 The kitchen is the heart of your home. It's a place for quick breakfasts and lunch assembly before you head out of the door — and a space to linger over dinners with family or friends.
For such an important part of your home, you'll want it to reflect your style while also being practical. That's why it's important to select furniture and decorative elements that not only make a statement, but serve a purpose.
Here are five ideas for selecting functional kitchen decor that can add dynamic design to your home without breaking your budget.
Invest in Multipurpose Furniture
The furniture you choose for your kitchen will make the biggest impact on the room's appearance and function. When shopping for furniture, pay attention to all of its features, particularly how it can add convenience to your everyday life.
Your kitchen island is one of the places where you can make the biggest impact with function and style. Choose an island that will give you plenty of room for preparing food — and lots of built-in storage for extra convenience. Use the built-in storage specifically for the items you are most likely to use on the island, including knives, measuring cups, and cutting boards. Select a top for your island with an overhang, so it can double as a space for serving casual meals.
Open Up Your Space
If you've ever watched an episode of a home improvement TV show, then you've probably heard about open concepts. Open-concept kitchens are more than a buzzword, they can be a way to enhance the design and functionality of your space.
Open-concept kitchens have a particularly big impact on small spaces. Rather than having a tiny galley kitchen that's hard to work in and a separate dining room space, your space will feel bigger, and be more functional, by removing the walls between the two rooms. With a larger kitchen, you'll have more room to create built-in storage, and also have more space to sit down for meals.
If outdoor living is part of your lifestyle, you can connect your kitchen to your yard or porch. Consider removing part of your exterior wall and installing windows that slide open or lift entirely to create an indoor-to-outdoor eat-in counter. Just use caution if you live somewhere that gets cold during the winter, and make sure the windows have strong seals.
You can also make the room feel more open by removing the upper counters in your kitchen and replacing them with shelves. Just remember, you'll want to keep these shelves organized and tidy so your kitchen doesn't look cluttered.
Store Appliances Between Use
Another way you can add more space and functionality to your kitchen is by storing appliances when they are not being used. Instead of leaving coffeemakers, toasters, and other appliances on the counter, place them in a cupboard or on a shelf. This will make your kitchen appear cleaner and more spacious while also giving you more room for cooking.
When buying cupboards or shelves, look for pieces that will fit with your appliances. You can also install turntables for easier access, so you don't have to dig through your cupboards or shelves every time you want to make a cup of coffee.
Select Pieces That Suit Your Style
Although most people pick stoves, refrigerators, and sinks that have a consistent look, you can expand your aesthetic to all parts of your kitchen. These days, cooking and baking utensils come in all styles and colors, so you should select pieces that suit the overall design of your kitchen.
Start by selecting a few materials and colors that fit the decor. For example, you might choose rose gold metals, bamboo wood, beige linen, and white marble as your materials. Once you make those design choices, select everything from spatulas to dishrags to chairs that fit the overall theme. This will add continuity to your design and make every piece more intentional.
Have a Place for Everything
Whether you're moving into a new home or giving your family home an update, it's important to have a place for everything. When everything has a designated space, you'll be less stressed while cooking and serving food because you won't have to waste time opening cupboards and drawers in search of that one item.
Apply the same rule to kitchen staples, such as baking ingredients and spices. Pick out storage containers that fit your overall design aesthetic to double down on style and function. There are lots of options for food storage and organization that are suited for cupboards, shelves, and drawers depending on your preference.
If you struggle with knowing where to unpack all of your kitchen supplies, spend a few days using your kitchen without anything put away. Have some sticky notes and a pen on hand, and every time you're cooking, make a note of what cupboard or drawer you instinctively reach for when you need an item. Chances are, you'll notice patterns over time, and this will help you decide the best place to put everything from cups to spices for your culinary needs.
7 Tips to Save Money on Your Kitchen Renovation
9 Tips to Personalize Your Kitchen