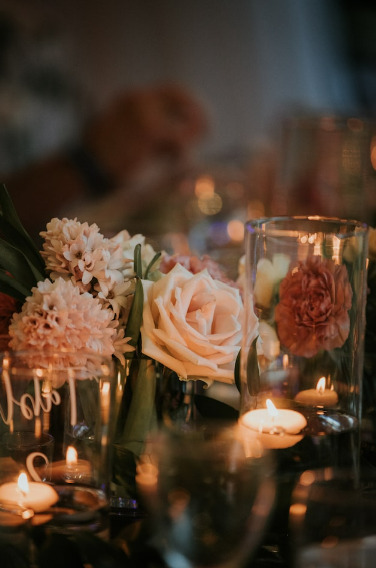 A candle adds ambiance to any room, but they can be pricey. However, with a little creativity and some dollar store finds, you can transform cheap candles into chic decor.
Here's how:
1. Upgrade with ribbon and/or tape
One easy way to transform a plain candle is by adding a ribbon and/or tape. The dollar store has a variety of ribbons in different colors and textures. You can use washi tape, duct tape, or any other decorative tape that you like.
Simply wrap the ribbon or tape around the candle and secure with a small dab of hot glue. Stripes, polka dots, an
d chevron patterns are popular choices.
Make sure to smooth out any air bubbles or wrinkles as you go. Add a bow for an added touch of elegance. The result is a stylish candle that looks like it cost a lot more than it did.
2. Add some bling
Another way to upgrade a plain candle is by adding some bling. The dollar store has a wide selection of rhinestones, pearls, and other embellishments that can be glued onto the candle.
Use a small amount of hot glue to attach the bling to the candle in any design you desire.
3. Layer with sand
Layer sand and your candles to create a beautiful centerpiece. The dollar store has a ton of different glasses…buy one that you love, and fill it with sand. Then, place a candle on top of the sand.
You can use multiple jars of different sizes and colors to create a beautiful display.
4. Add scent
If you have plain unscented candles, did you know that you can add your own scent?
Add a few drops of essential oils – which you can also buy from the dollar store – to the candle before lighting it.
You can also press dried flowers or herbs into the candle an added touch of fragrance. To do this, start by selecting your preferred dried flowers or herbs such as lavender, rose petals, or eucalyptus leaves. Next, melt the candle wax and pour it into a container of your choice, such as a mason jar or a small glass bowl.
While the wax is still hot and liquid, add the dried flowers or herbs to the mixture and stir them in gently. Let the wax cool and solidify, and your candle is ready to use!
When you light the candle, the heat will release the fragrance of the dried flowers or herbs, creating a lovely aroma throughout your home.
5. Paint It
Dollar store candles often come in plain glass jars that can be boring and unappealing. However, you can easily transform these jars into decorative pieces by painting them.
All you need is some acrylic paint and a brush to paint the entire candle or create your own design. Use a small brush to paint delicate designs or use a sponge to create a textured look.
You can use any color that matches your decor or create a fun design. Stripes, polka dots, and geometric shapes are popular choices. Once you've painted the jar, let it dry completely before inserting (or using) the candle.
6. Candle centerpiece
Dollar store candles can be used to create beautiful centerpieces for special occasions or everyday use. You can arrange several candles of different sizes and colors on a tray or in a decorative bowl.
You can also add other elements, such as flowers, pine cones, or shells, to create a unique centerpiece that reflects your style. Candle centerpieces are an easy and affordable way to add a touch of elegance to your home decor.
7. Upcycled candle holders
Finally, instead of buying expensive candle holders, why not upcycle some items you already have at home? Mason jars, wine glasses, and even teacups can be used as candle holders.
You can also wrap twine or ribbon around a plain glass jar to create a rustic look. Upcycling items you already have not only saves you money but also adds a personal touch to your home decor.
How To Get Your Home Ready for Entertaining
9 Tips to Decorate Your Small Dining Room