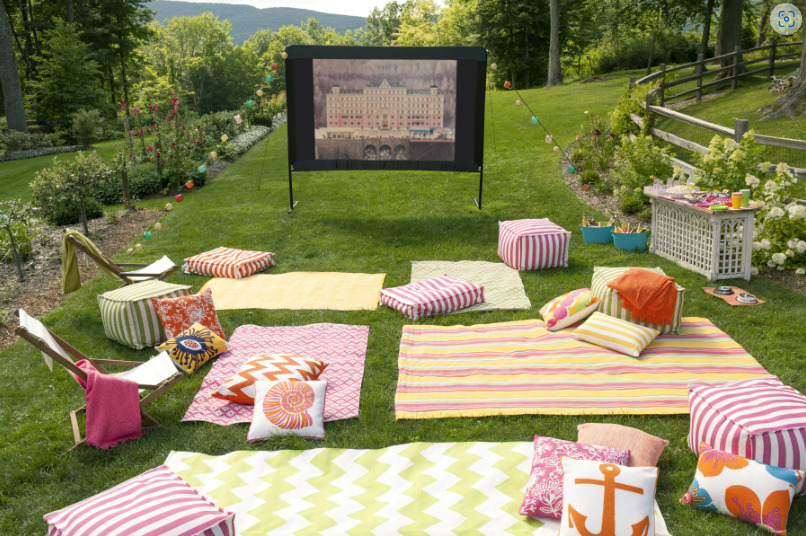 Whether you have kids, enjoy hosting parties, or love hanging out with your roommate or spouse for movie nights, creating a home theater in your backyard is a DIY project you can enjoy for years to come.
An outdoor home theater can upgrade your backyard — and if you're planning on selling in the near future, it can help boost the value of your home. Plus, it's easy to install and doesn't have to cost a fortune.
No matter if you own your home or rent, if you're interested in next-level movie nights outside, here's how to create an immersive cinema experience just beyond your back door.
1. Survey your yard
Before you get started, you want to figure out the best place in your yard to set up the seating area and projector. If you have a deck or outdoor sofa, it may make sense to view movies from there. If you don't, decide where you'd like to lounge while taking in a nighttime movie.
Next, figure out if you can mount a screen on your fence, garage, shed, or another structure — or if you'll need a screen with a base to rest on the ground. Make sure you also consider the best place to plug in electronics.
2. Choose a screen
Now that you know where your movie nights will happen, it's time to choose a screen. Technically, you don't have to get fancy (a white sheet will work), but investing in a screen will provide a more reliable picture and a better experience, especially if it's windy. You can buy an outdoor screen that mounts to your fence or garage, build a stand for your screen out of PVC piping, or opt for a screen with a standing base.
If you're not interested in projecting your film, you can also buy an outdoor TV — just ensure that it's well covered to protect it from the elements.
3. Select a projector
It's not a good idea to bring a projector designed for indoor use outside, so even if you already have one, it's best to invest in an outdoor projector for your backyard movie theater. Projectors are available at varying price points, so you don't need to pay a lot to invest in a decent one. Just make sure it plays the media you're looking for and has the right ports — like an HDMI connection.
4. Don't forget the media player
If you have a projector and a sheet or screen, you'll likely need some type of media player to play your movies. If you pay for streaming services, you can buy a Roku, Amazon Fire TV Stick, Google Chromecast, or another streaming device to help play your media. This will make it easy to switch between streaming services, too.
5. Figure out the right sound system
Depending on the size of your yard, you might need a better speaker than the one that's built into your projector. Bigger yards may require an additional Bluetooth speaker or soundbar to help bump up the audio. You may need cables to connect your speaker of choice, depending on which type of device you go with, so make sure it's compatible with your projector first.
You may notice out-of-sync audio when using a Bluetooth speaker, so a plugged-in speaker might provide the best experience for your guests.
6. Prepare your seating
You might already have seating that will work well with your outdoor movie theater setup. Otherwise, you'll want to invest in cozy chairs, couches, blankets, cushions, and more. You might want to invest in other foldable seating so you're covered if you have more guests over than usual. Extra blankets and pillows can also help keep your outdoor cinema extra cozy.
7. Add-ons to consider
To really elevate the experience, you might want to invest in a small outdoor snack bar or cart, so your guests can enjoy sweets while they watch. Having a variety of folding tables for drinks and food, as well as ottomans for comfort, can take your movie night to the next level.
Practically, you may also want to invest in bug spray or small fans to help keep your guests comfortable and cool. And if you're connecting to your home's Wi-Fi, setting up a Wi-Fi extender near your back door can help keep you better connected.
Get the most out of your summer
An outdoor movie theater is a great way to enjoy more of your home, while increasing your home's appeal to potential buyers down the line. You don't have to go crazy — a screen, some blankets, a small projector, and a streaming stick are all you really need to bring the magic of the cinema to your backyard.
10 Ways to Enjoy Your Home Outdoor Experience During the Summer
5 Ways to Turn Your Deck into A Summer Haven
How to Create a Magical Playground with Your Kids This Summer