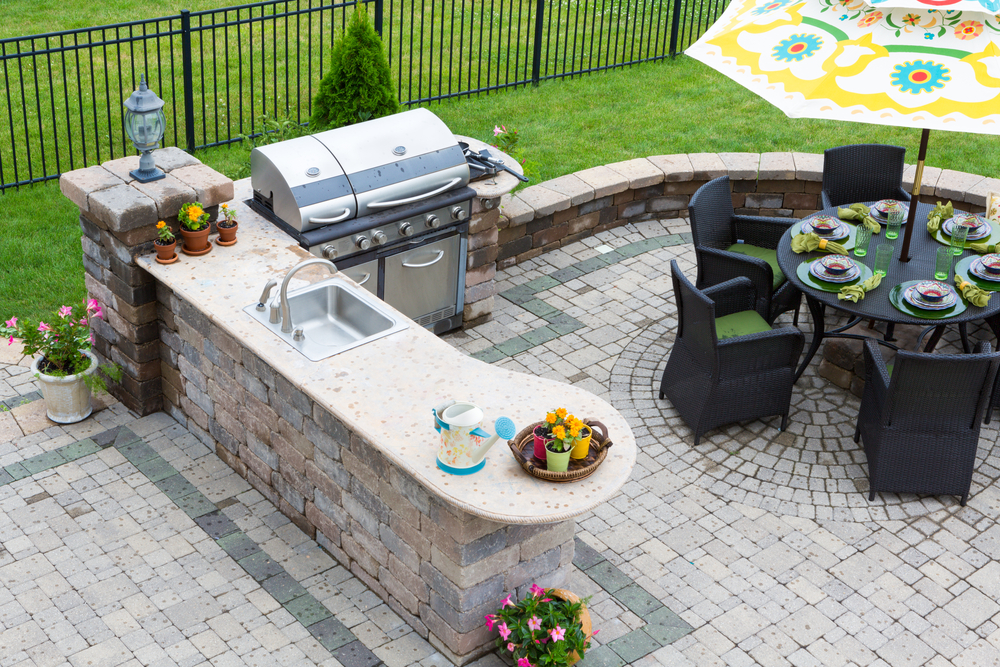 Hanging out outdoors in the comfort of your own backyard is one of the best ways to enjoy summertime. Whether you're looking forward to cooking special weeknight dinners on the grill with your family or hosting a barbecue party, you'll want to make sure your outside space is ready to entertain.
Luckily, you don't have to spend a fortune to spruce up your backyard patio. Even small changes can improve your home's look, making it more appealing for potential buyers if you ever decide to sell. Here are 6 ways to enhance your outdoor space to make your next summer barbecue event the hit of the season.
1. Add some lighting
Ambiance can help keep your outdoor get-togethers going from daytime into night. No matter how small your space is, adding outdoor lights to your patio can make it easier to navigate after the sun goes down. And if you don't have lights hardwired, there are plenty of renter-friendly and inexpensive options. Consider strands of string lights, tiki torches, or even solar lights that can be planted directly into your lawn.
2. Create a fire pit
Give your guests a place to gather around outside by creating an area for a fire pit. This serves as the perfect place to roast marshmallows and make s'mores. While you can buy a fire pit that's ready to go, it's also easy to create your own. You'll just need bricks or large stones to create a barrier to contain the fire, then you can dig a hole, add sand, then gravel, and finally lava rocks to complete your fire ring. Make sure you build your fire pit at least 15 feet away from other structures to reduce the risk of fire damage.
3. Add patio planters
Since you're outdoors, you might as well lean into the nature element and add greenery where you can. You can build a wall-side patio planter out of wood to give your guests a stunning sight along the outside of your house or against your fence. Or, use plant stands, hanging planters, or outdoor tables and stools to create a plant or flower wall with your favorite summertime greenery. You can keep the theme going by adding small plants, such as succulents, as a centerpiece on outdoor tables and deck walls.
4. Hang curtains
If you love your outdoor deck, but hate that you can see into your neighbors' yards or how often bugs buzz in and out, hanging outdoor curtains from the top of your deck beams or the side of your house may be a worthwhile project. Opt for white linen curtains for a classic look, and be sure to install curtain ties, so you can pin them out of the way when you want to open up the space.
5. Create a backyard movie theater
If you have kids, enjoy romantic nights outside, or host often, an outdoor movie theater can take your parties to the next level. All you need is a projector, a streaming device (like a Roku), speakers, and a white sheet or outdoor projector screen to display your movie. It's a great way to make your party unforgettable, without involving an expensive or time-intensive patio project.
6. Don't overlook the small details
When the party is all about the food, you can get creative and personalize the experience. Pour your legendary barbecue sauce into small mason jars and add them to each table to ensure everyone can use their preferred amount. Use old beer bottle holders to corral condiments and place one at each table (or on each side of a long table). If you're leaning into a traditional barbecue theme, you can use bandanas as napkins or place settings. You can also add individual moist towelette packets at each place setting to make cleanup a breeze.
Creating an Inviting Barbecue Patio
A well-arranged patio can help your guest feel more at home when attending your summer barbecue. Be sure to add lighting, greenery, and linens like curtains or even throw pillows to elevate your outdoor space. Consider the people visiting, too. For example, if there will be a large group of kids, consider buying outdoor toys or games like bean bag toss to keep them occupied and entertained.
You don't have to spend a lot to upgrade your patio this summer. But the right upgrades can help boost the curb appeal of your home. Taking care of your backyard can even help you get a higher asking price if you decide to sell your home down the line.
10 Things to Know When Buying a Retractable Awning
How to Properly Store Your Patio Furniture This Winter