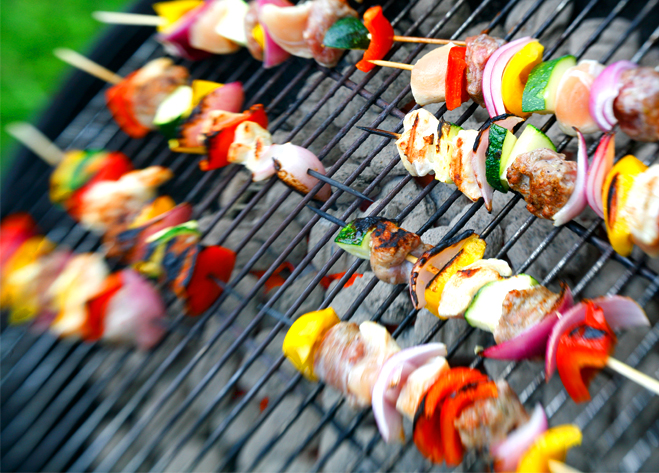 Now that you cleaned your grill, it's time to start grilling because we are in the midst of grilling season. We promised you some of our favorite grilling recipes and so here it goes. This grilling season, we hope you enjoy these recipes as much as we do and we hope your Memorial Day is fun filled!
For a healthy burger, try

Jillian Michaels Southwest Turkey Burgers
Ingredients:
1 pound ground white meat turkey breast (99% fat free)
1/3 cup black bean and corn salsa from a jar or any favorite salsa
1 egg
1 tomato, sliced
1 avocado, sliced
In a medium bowl, combine the turkey, salsa and egg. Mix well and then form into 4 patties. Place on a broiler pan and broil or grill each side for 5-6 minutes, or until cooked throughout. Serve with a few slices of tomato and avocado.
Do not let the healthiness of this burger fool you, it is fantastic!
Giada De Laurentiis is serving up

Beef Pops with Pineapple and Parsley Sauce
Ingredients:
For the Parsley Sauce:
3 cups fresh flat-leaf parsley
2 cloves garlic, peeled
2 tablespoons red wine vinegar
1 teaspoon crushed chili flakes
1 teaspoon sugar
11/2 teaspoons kosher salt
1/2 teaspoon freshly ground black pepper
1/2 cup olive oil
For the Beef Pops:
1 1/2 pounds beef fillet, cut into 3/4-inch cubes (about 40 cubes)
1 (2-pound) pineapple, cut into 3/4-inch pieces (about 40 pieces)
20 (8-inch) wooden or bamboo skewers, soaked in water for 30 minutes
Salt and freshly ground black pepper
Directions
Parsley Sauce: In the bowl of a food processor, blend together the parsley, garlic, vinegar, chili flakes, sugar, 1 1/2 teaspoons salt, and 1/2 teaspoon pepper until smooth. With the machine running, gradually add the olive oil until incorporated. Place half of the mixture in a medium bowl. Add the remaining mixture in a small serving bowl. Cover with plastic wrap and refrigerate until ready to serve.
Beef Pops: Place the beef in the medium bowl with the parsley sauce. Toss well until the beef is coated with the mixture. Cover and refrigerate for 3 hours.
Place a grill pan over medium-high heat or preheat a gas or charcoal grill. Thread the skewers starting with a piece of pineapple, then a cube of beef. Repeat with another piece of pineapple and another cube of beef. Continue with the remaining skewers. Grill the skewers for 2 to 3 minutes each side (for medium rare) or until desired doneness. Season with salt and pepper.
To serve, arrange the Beef Pops on a serving platter. Drizzle with the remaining reserved Parsley Sauce or serve the sauce on the side as a condiment.
This next recipe was a winner at a neighborhood party!
Grilled Shrimp with Roasted Garlic-Herb Sauce

Bon Appétit | July 2001
Brining the shrimp and then grilling them in their shells will help retain flavor and the natural juices.
Ingredients:
1 quart water
1/3 cup salt
1/3 cup (packed) golden brown sugar
1 1/2 pounds uncooked large shrimp, unpeeled
1/4 cup olive oil
2 tablespoons dry white wine
2 garlic cloves, minced
1 tablespoon chopped fresh parsley
1/4 teaspoon dried crushed red pepper
Directions
Stir first 3 ingredients in medium bowl until sugar dissolves. Add shrimp. Refrigerate at least 1 hour and up to 3 hours. Drain and rinse shrimp.
Using shears, cut shrimp shells down center of back all the way to tail section. Using sharp knife, cut shrimp in their shells along the full length of the back (do not cut all the way through). Remove vein and pull off legs. Open shrimp.
Whisk olive oil, white wine, garlic, parsley, and crushed red pepper in clean medium bowl. Add shrimp and stir; let stand 30 minutes.
Prepare barbecue (medium-high heat). Place shrimp, flesh side down, on grill. Grill shrimp until pink and cooked through, about 2 minutes per side. Transfer to platter and serve, passing Roasted Garlic-Herb Sauce separately. Makes 6 servings 
This one brings some great flavors together.

Ancho-Lime Marinated BBQ Chicken

 Recipe courtesy Michael Gintert
Ingredients
2 whole chickens
1/2 cup light olive oil
1/2 cup lime juice
1 tablespoon minced garlic
2 tablespoons ancho chili powder
1 tablespoon ground cumin
2 teaspoons black pepper
2 tablespoons Worcestershire sauce
Directions
Cut the chickens into legs, thighs, breasts, and wings and place in a large pan. Sometimes we use chicken breasts and the recipe works just as well. Whisk together the remaining ingredients in a small bowl and pour over the chicken. Cover the chicken and refrigerate overnight.
Preheat the grill. Place the chicken pieces on the grill at a 45 degree angle to establish good grill marks.
Once the chicken easily releases from the grill, turn it over to continue cooking. Make sure to season the chicken with salt while it's cooking. Once the internal temperature reaches 165 degrees F, or its juices run clear, remove the chicken from the grill. Let the chicken rest for 5 to 10 minutes before serving.
For more of our favorite grilling recipes check out our Facebook page.