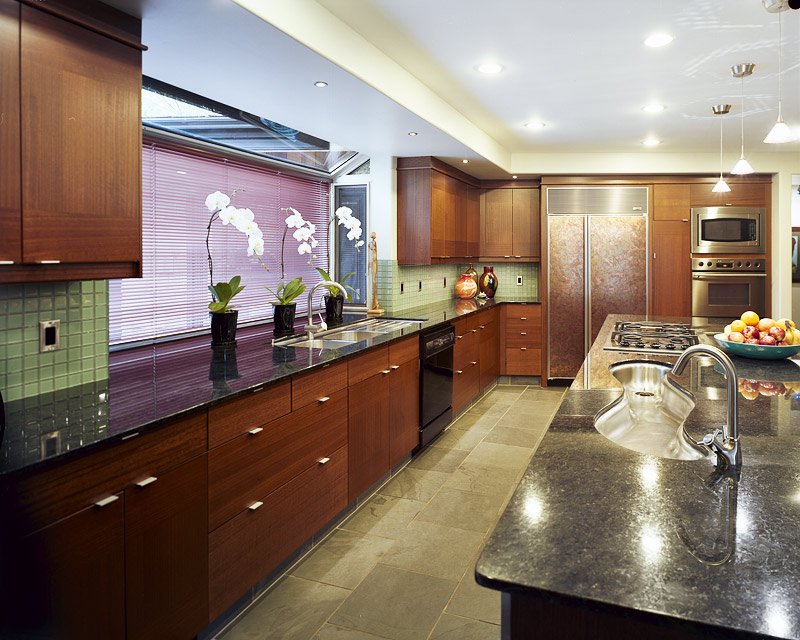 The National Association of Kitchen and Bath Association performed a survey to understand what were the latest trends in Kitchen and Bath Design. Specifically, NKBA refers to this document as the Kitchen and Bath Style Report.
Here is the results from 2012
Wood Cabinets
In kitchens differing wood cabinets were being used with  the use of cherry wood falling in 2012 and 2011. Maple is still a highly used cabinet material which holds the number one spot for most used wood for kitchen cabinets but it too fell in 2012. Woods like walnut and oak saw an increase in usage. Cabinetry in dark natural finishes were the most popular of 2012. However medium finishes were not far behind. In the world of painted cabinets, white is still the most popular color with distressed finishes making a slight comeback.
Back Splash
Some additional trends in the kitchen area were the increased use of glass for kitchen back splashes. While natural stone, granite and quartz are still popular for back splash areas and ceramic tiles declined in back splash use.
Lighting
Additionally, lighting to support energy efficiency is continuing to increase. As well as, the integrated pull out faucet which replaces the standard faucet with side nozzle.
Increased Storage
In bathrooms, medicine cabinets are on an increase so that homeowners can maximize their storage capacity and organizational abilities.
Traditional and Contemporary Styles
In both kitchens and bathrooms, a transitional style of design is the most popular which a blend of traditional and contemporary style. Or what is referred as a modern classic look. Contemporary design style is the next most popular in kitchens and bathrooms. Additionally, solid surfaces are increasing in use and design in both the kitchen and bathroom with granite and quartz some of the most popular materials being used.
Whites and off-whites, greys, and browns are the most popular color schemes being used to give an elegant, yet not overpowering look and feel. And polished chrome fixtures are more popular than brushed fixtures.
For more details and the full report,  visit the National Kitchen and Bath Association.