Kitchens are a focal point in any home. You eat meals here, study and work on homework, create to do lists, read books, and entertain. Adding a dash of pizzazz to your busy living area is a great way to bring life and fun to an already functional room. Adding color to a kitchen can be simple with this quick tips. 
Appliances
Adding color can be as easy as showcasing an appliance like this cute toaster or this coffee maker. Appliances are now found in so many colors that just adding one to your counter top could be a conversation piece.
Accessories
An economical way to add color is try placing dishtowels in hanging areas.  Dishtowels come in all kinds of colors and patterns to shake things up in your kitchen. Even trying ones with sayings on them will also force to think about what is written on the dish towel.  Or try knobs, this is a low cost décor item that you can change out seasonally or annually if you really want to have some fun.  Anthropologie is just one store with so many knobs to choose. Maybe you do not want to add color to all your cabinets, well try maybe one or two cabinets with a burst of color using a knob.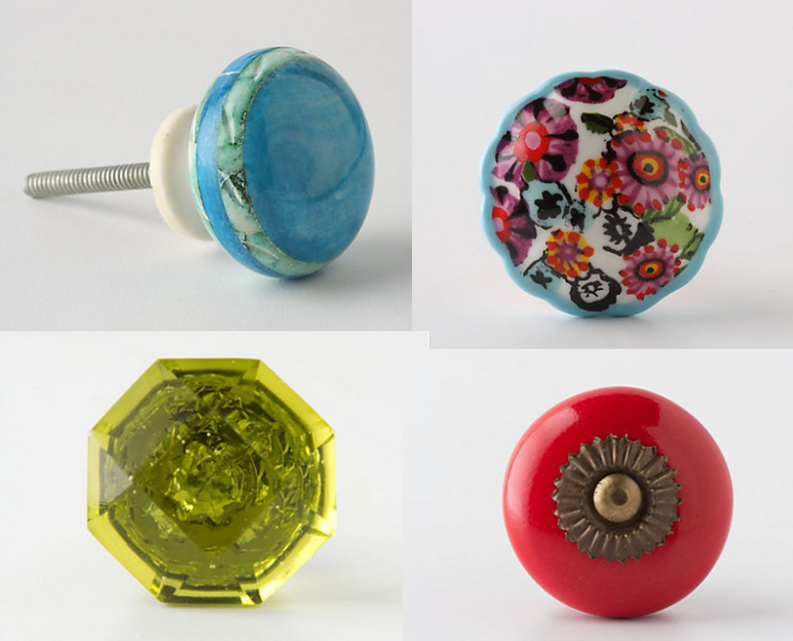 Cabinets
Adding color by painting cabinets or walls is a quick an easy way to spruce up your kitchen.  Take a look at these painted cabinets.
Bold Appliances
Some might think that painted cabinets might be a bit much and may not want to live with painted cabinets for a long time.  Yet these same people might want to make a statement with a big bold colorful piece in their kitchen. Try an big appliance to set the color stage.  Like this range from Bluestar or this on from Bertazzoni or this frig from Smeg with all kinds of colors to set your mood.  Try a rug for a pop of color or even a colorful backsplash.  Lots of items in your kitchen can add a hint of color.  Try some out and let us know what you think.