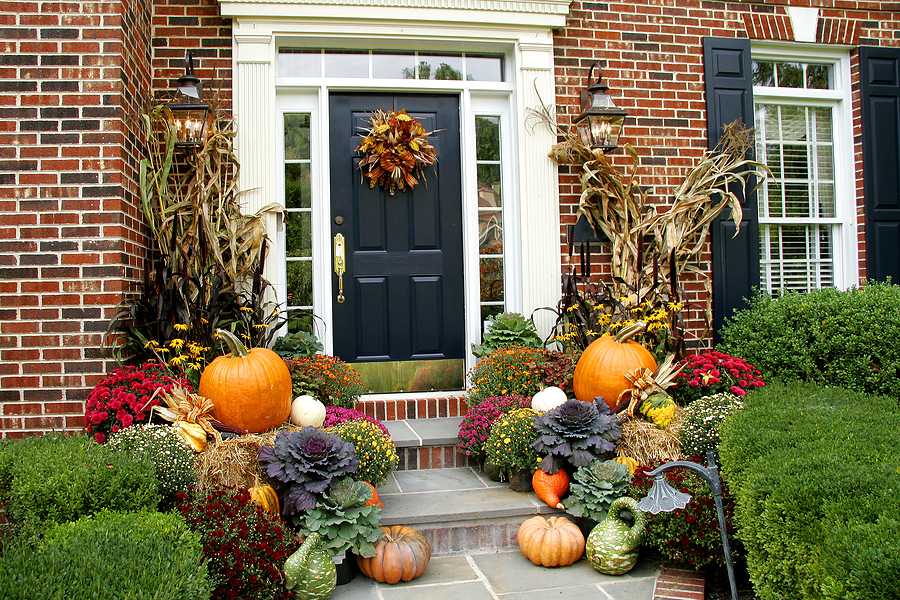 With spring and summer moving on and the bright and vibrant colors of these seasons fading, we move into Autumn. Fall brings beautiful colors like oranges, reds, yellows, golds and spectacular browns. How do you leverage these incredible fall colors to continue to brighten up your home with autumn decor.
Using what nature gives us is the first step to incorporating great fall colors. Items like pumpkins, squash, cabbage, twigs, wheat reeds and more can add a bountiful outdoor splash of color or table center pieces.  Adding ribbons to cornstalks brings the nature to your home. As an option, use   these colors to brighten a gold cornstalk with big bold orange or brown ribbon. Planting fall plants like mums, goldenrod or aster will brighten your front or back yards.
Home Decor
Incorporate the colors of autumn in your home décor. Using throw pillows on sofas and chairs, adding candles, and a floral arrangement. Using vases filled with colorful balls or goodies are simple ways to incorporate fall. Changing out comfortable covers and adding slip covers to sofas and chairs. Or changing out framed art to reflect the season requires a bit more work. But could truly add the colors needed to represent autumn.
Scents
Autumn has a scent all to its own. Using the scents of autumn in candles, sprays or a simmering concoction of cinnamon, cloves, oranges and cranberries will give you a home that smells like the deliciousness of fall. Even baking a pie will make your home smell tasty.
Adding a feel of autumn to your home is easier than it looks.  Remind yourself of all the brilliant colors and scents that occur this wonderful part of the year.