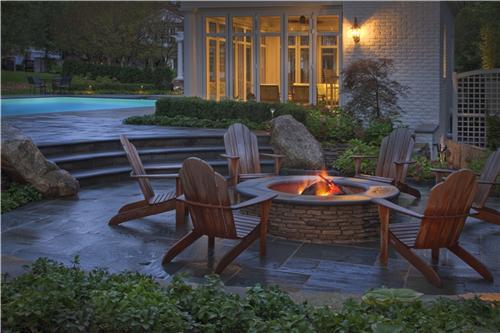 As fall continues to approach, the use of firepits give us an opportunity to continue to entertain outside. There are few things to keep in mind when using firepits.
Types of Units
First, fire pits are found in two primary forms.  A wood burning fire pit and a gas powered fire pit.  With a wood burning fire pit, you will need wood, paper or a fire starter log, something to start a flame to get the fire going.  For a gas fire pit, you will need a connection to your gas line and we recommend that you have a professional install your gas powered fire pit.
A gas fire pit is simple to maintain as there is almost no cleaning of the actual pit. And with a flip of a switch you can gain access to heat easily. However, some of these can be expensive to install. You will also need to account for your use of the gas in your monthly utilities bills. There are firepits that use propane gas instead of being hooked up to a gas line. A fire pit using wood will require regular clean up after its use. And these units will require available sources of wood on hand to create a fire.
Safety
When using a fire pit, it is important to keep a few things in mind. First, stay close enough to gain access to heat. But keep your distance from the fire to avoid any accidents or major burns. Always practice fire safety with the appropriate extinguishers on hand. Having a fire extinguisher, water or sand to put out a fire that is out of control is important. Be aware that some fire pit materials can crack if water is used. For instance, pouring cold water on a hot surface could actually cause more problems for the long term maintenance of your fire pit. Read the care instructions of your fire pit when you purchase it.
Fire pits give us the opportunity to enjoy the crisp fall weather and share conversations by fireside. This therefore creates a campfire effect. This is a great time of year to enjoy the weather and your conversations. And maybe even a few s'mores along the way.