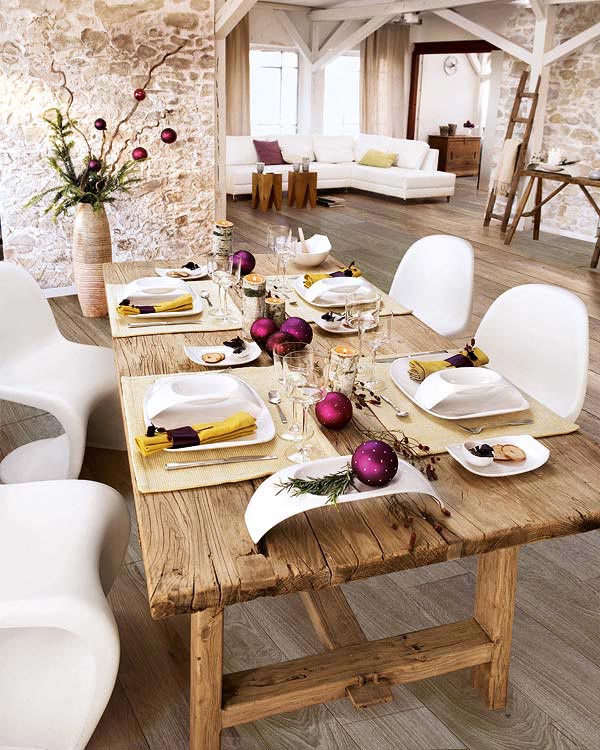 This time of year gives us so many opportunities to be creative with our decorating. From decorating trees to windows, doors and so much more. When celebrating these holidays with your friends and family, it is nice to really show your creativity with a delightful table setting. Holiday table decorating is a fantastic way to celebrate your creativity. Start by looking around your home, both inside and out. What could be used to create a great table setting? You will be surprised what you have around your home for a great holiday table decorating project.
Outside
Using cut herbs like rosemary can add a unique look to your table. And it can scent the room with its invigorating fragrance. If you have magnolia trees or evergreens, a few clippings can bring a holiday table to life with natural flair. Along those same lines, using pine cones with your evergreens or on their own continue the holiday spirit. Try sprinkling your pine cones with a little cinnamon or scented oils to add to the holiday season.
Do you have a wood burning fireplace? Adding some logs to the table to create a rustic or woodsy effect. Maybe even carve some areas in the wood to hold tea candles.
Christmas Decorations
Ever think, what do I do with the Christmas decorations that did not make it on a tree this year. Okay, you can add them around the house. But, using these decorations in your holiday table decorating project is simple.  Try a vase of bulbs or leftover wrapping paper as a runner. Have any glitter around your home?  Try a vase full of glitter and maybe some greens, bulbs or even branches added to the vase.  o have special ornaments that mean something for the guests around your table?  Try using this particular ornament as a napkin ring or name place holder. Extra garland or tinsel? It is easy to add to a table. And it could add some pizzazz to your table.
Kitchen
Raiding your kitchen for table decorations is so easy. Pour salt and sugar in the bottom of a glass jar to hold a candle. Try coffee beans or cranberries for a similar effect. Fruit is easy to use around a table. Add oranges, apples, pomegranates, or pears in bowls, vases or simply lay them on the table.  What about using spices like whole cloves or black or pink peppercorns to add zest and spicy to your table. Candy is always handy. It will also give you an instant dessert table. Candy canes truly bring the Christmas spirit but, using Hersey's kisses or other packaged candy has its benefits.
Around the House
Take a look in your pantry to find bowls, cake trays, canning jars, plates, charges or other items to hold bulbs, fruit, or other forms of décor. Maybe you have chalkboards or white boards to create holiday messages around your table. What about a workman's Christmas table. Using screws, bolts and other tools pieces in jars with a big ribbon tied to the vase will definitely be a creative holiday table decoration.  Maybe you have blankets, burlap or maps around your home that can bring out a theme for your table. Using blankets or burlap can add a cozy effect. While maps can detail your travels of the year or the upcoming travels. These maps will certainly start conversations.  Are you a game fanatic, try using game boards and game pieces to create a fun environment for your group.
For more table decorating tips, visit us at Pinterest. We would like to see your tables. So fill free to send us your photos or post to the HomeZada Facebook page.
Whatever your table top looks like, have fun and happy holidays!