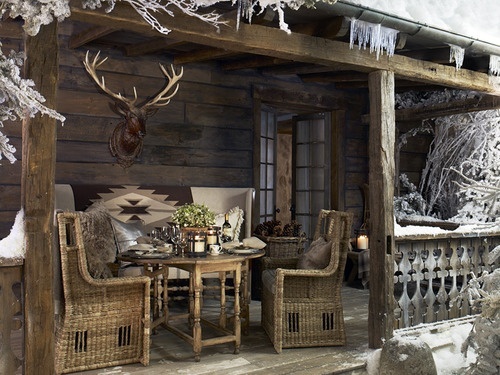 A patio and outdoors space are ideal areas for friends and family to unwind, dine and enjoy the peace and tranquility of the garden. It can be a wonderfully relaxing space for all kinds of pastimes. And with the onset of winter, you should not have to change any of this. Indeed, with some easily followed guidelines
everyone can enjoy their patio during winter.
Covers for keeping the cold away
When arranged and treated with care, patio furniture can be protected against the cold winds, rain and even snow during the winter months. Perfectly designed furniture covers can provide excellent protection from the worst excesses of the winter chill. Simple pleasures such as reading, writing or enjoying a warm cup of hot chocolate can all be experienced on seating and sofas fully resilient towards the cold. Simply by making sure to protect the furniture with covering when not in use can be a major step toward enjoying outdoor furniture in winter – and all year round.
Furniture built to last
Lasting furniture does precisely what is expected of it. Durable and resilient forms of furniture like resin can be optimized in all weather woods and steel. Capable of keeping moisture at a minimum, these materials can provide comfortable enjoyment in every season.
Heating the area
Of course, heating is central to enjoying your patio in the winter. Making a purchase of a patio heater makes outdoor living in winter more tolerable. There are an excellent range of patio heaters currently available to suit your specific needs.  Modern portable heaters are available in compact size and have the extra convenience of being able to be positioned wherever you feel it will provide maximum heat.
The finery of fire pits
A patio can also be warmed beautifully with a stylish fire pit. These items can be brought out especially for when the fiercest cold is in the air. Practical and versatile, they can be easily stored away when not in use. As a continual low level source of heat, these exciting additions to the yard can make an excellent talking point at dinners and parties. The best designs present a creative, artistic flair to the outdoor space. Warm air with perfect art and design – exactly what winter calls for!
An ideal outdoor space all year round
With the right products and treatment there is every chance that a good quality set of patio furniture can last the whole year round. Through sensible application of the best methods and arrangement, a backyard can continue to provide a relaxing space for family and friends throughout the winter and beyond.
About Author: Neil Hanks is a Canadian freelance writer from the greater Toronto area. He is an avid home improvement and outdoors enthusiast. If you want to enjoy your patio year round and are looking for all season patio furniture or a fire pit try http://www.cabanacoast.com/