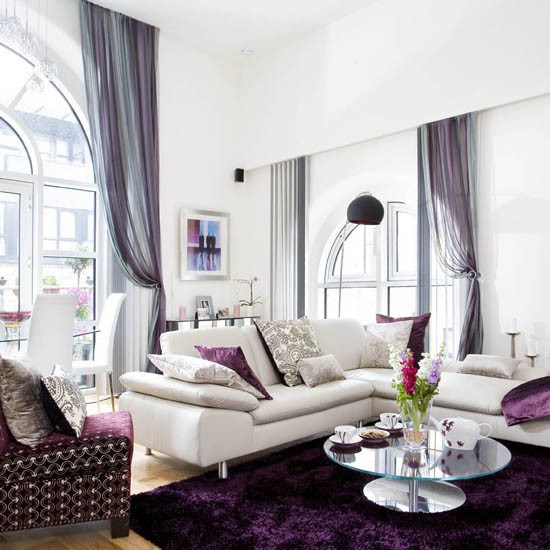 Guest Blogger: Jerry Smith
Dressing up a living room and adding some glamour can lead to an involved process yet there are simple ways to glam up a room. When it comes to the living room, every aspect of spacing, furnishing and decorative efforts do well by being more emphatic and coherent to produce the best ambiance of the home. A living room is the place that portrays the spirit of your home and it is also the place where you receive your guests and engage with your family member's. Here are simple and effective ways to add glam in your living room.
Simplicity
Most of the time in trying to add shine to our interior, we end up doing a lot without any significant change in the look and feel of the ambiance. On the other hand, sometimes a few simple shifts and makeover incorporates a fresh change for the better. For instance, positioning the sofa in a more appropriate place of the living room often creates enough space and can sometimes make the room appear bigger. Additionally, creating more space with minimum furniture and their positioning in the room often makes a living room elegant. The living room of yesterday can achieve a magical makeover by simply reducing or moving furniture throughout the room
Let Light in the Room
A living room is often exposed  to a significant  share of sunlight and sometimes the windows open to a backyard with a  courtyard or garden to give it a delightful sunny ambiance. Make sure that the furniture is placed in such a way so that it does not cause any obstruction of the light and can actually enhance the quality of the room by allowing the light to bathe the entire room. Use fine linens in light shades of color for curtains and drapes to create an airy and feather light ambiance in the room can also add to use sunlight in the room.
Be Creative with Colors
Using colors in living rooms can vary.  Leveraging subtle colors that reflect a sense of peace or serenity can add to a soothing ambiance. However, embracing bold colors can add texture and an uncommon yet marvelous look to a room to share with your guests.  Color can present itself in living room walls, furniture, sofas or sofa covers, rugs and even in accent pieces around the room.  Choose palates to leverage conversation to set a mood when enjoying this room.
Try Something New
Yes, a new twist in the look and design of your living room interior can express your artistic side, your rebellious side, and even your delicate tastes. While using common trends may be your practice, try something new.  Instead of painting on a wall, try adding a wall cloth or tapestry or wall paper.  Try adding a family memento to a wall or around the room as a conversation starter. Use an impressive piece like a favorite rug, a favorite chair, a painting to create a focal point in the room.  Such creative twists are of great value if you want to make your living room look uncommon and fresh.
Floor Lighting with Upward Focus
Finally a subtle and gorgeous light scheme is the ultimate way to add glamour to your living room. There are many lighting options to choose from including low hanging lights, pedestal lights, chandeliers and modern designer wall lights. But a lighting scheme with lights focusing upward from the floor can be the an attractive option creating a surreal dreamy effect in the living room. Upward lighting can add a subtle yet impressive way to add glam to your living room.
About Author: Jerry is home decor enthusiast and currently working with Canadian Appliance Source. He has done research on various kitchen appliances and home appliances in Toronto.