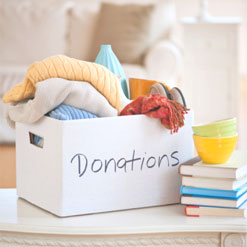 Spring time is upon us and spring cleaning and home projects are starting to get in full bloom. Recycling is good for the environment and is a way to pay it forward to the next generations. Recycling can start in your kitchen with simple ways of having the tools to collect the recyclable goods like plastics, aluminum and paper.  Whether your current refuse company collects the waste along with your trash or you have drop off locations for recycling, recycling these items is the simplest way to get started in this process.
Another way to recycle is giving unused items to groups that can reuse them for their efforts. These organizations use the funds to grow their contributions to others. They provide clothes, furniture, household goods and more to others by helping them get back on their feet, by getting more funds to support those less fortunate and by providing households with an opportunity to purchase budget friendly household items and clothes. Even finding hidden treasures among these items that provide a renewal of a piece that shares a story from another.
Organizations like:
Goodwill Industries is an organization that provides training to individuals in the fields of banking, IT and healthcare.  In fact, they trained over 6.7 million people last year.  Goodwill has facilities and stores around the country where you can drop off your products and also receive receipts to track your income tax deductions.   Goodwill also partners with a lot of large organizations like Dell and Levi's to help with managing the amount of waste in our landfills.
Salvation Army supports disaster relief efforts, people in need, homeless families, battered women, human trafficking, hunger relief and many others. The Salvation Army also takes collections of clothing and household goods to support these efforts.
Recycling in just a little bit can go a long way and reduce the waste in our landfills.  Take part and pay it forward.