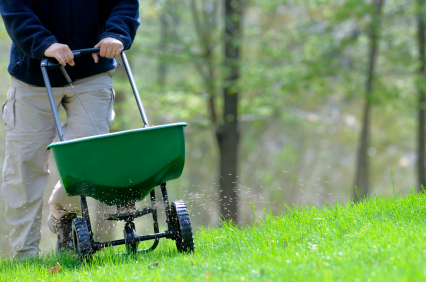 Fertilize your lawn with the right mixture and at the right time can keep your lawn growing, keep it healthy, and keep it looking great. It is important to know based on your climate when is the best time to fertilize your lawn. Spring and fall are good general rules of thumb. Some folks fertilize their lawns twice a year in both the spring and the fall, but some only fertilize once a year. It is important to make sure you do not to fertilize too much as this can cause your lawn to burn. A burnt lawn does not look good and will create a poor appearance and could result in needing to replace your lawn from too much burnt and dead grass. 
How to fertilize your lawn
The three big things to fertilize your lawn are getting the right fertilizer for your situation, getting a rolling or hand spun spreader, and the timing of when to do this. Fill the spreader with fertilizer, open the valve and begin briskly pacing up and down the lawn to ensure an even spreading. It is great way to also add some extra exercise on the weekend. If you do not know the exact mixture of fertilizer, visit your local nursery and explain your soil and your climate along your desired look and feel of your lawn. It is important that you have the correct mixture.