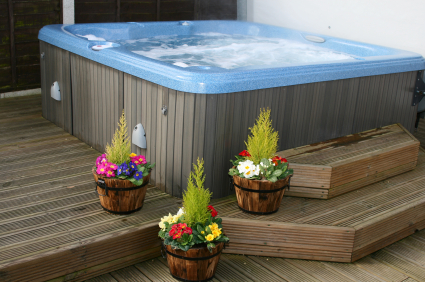 Putting a hot tub in your backyard can be a great project. A hot tub can provide a relaxing environment to reduce stress and a water therapy environment to loosen sore muscles from either work or working out. With fall and winter around the corner, what a great time to use a hot tub. Did you ever jump into a hot tub when the air is chilly to create a must for your senses? If you are thinking about adding a hot tub to your home, it is time to get your project under way.
There are several ways to install hot tubs however a common installation is to put hot tubs above ground and surround them with deck as well as a trellis to keep in the steam and the heat.Adding decking can create a safe exit when you are wet from being in the water. Slip proof areas are good so that no one is falling and hurting themselves. Adding trellis around hot tubs can create a feeling of privacy and separate space feel in the backyard. Many people like to put the hot tub in an area that will get either partial or full shade during the day. Adding hot tubs can also add a new element of your backyard, creating another area that can be highlighted making your home the party pad. You just might have guest jumping at the chance to visit with you because of this cool, or shall we say hot, place.
Items to consider for a hot tub project
Here is a quick list of items to shop for with you project.
| | |
| --- | --- |
| Arbor Structure | Hot Tub Pump |
| Decking | Lighting |
| Hot Tub | Plants |
| Hot Tub Filter | Labor |
| Hot Tub Heater | |
Some people work with a supplier of this type of recreation equipment to provide all the parts pieces of the equipment and also to install it property within your designated area.
How to plan your hot tub project
Selecting the size and style of your hot tub is the most important part of this project.  You can research online or local suppliers to find what you are looking for.
Most vendors will also perform the installation work as we stated earlier. Installation assistance may be important to you if you do not have the time or the skill to install this fairly large piece of recreational equipment. Keep in mind that your hot tub will need another equipment area near the tub for the pump, filter, and parts. You will also need electrical connections to supply power to your equipment.
Here is a video of installation ideas from Jacuzzi