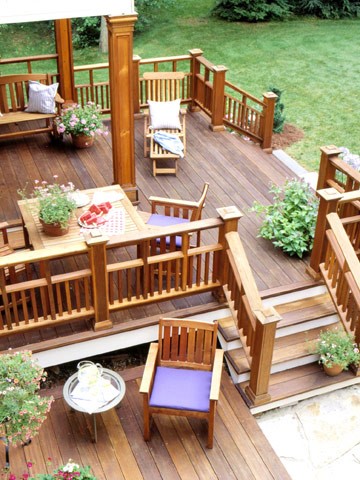 Guest Blogger: Francesca Holmes
The decision to install decking is a popular landscaping option. It can add a stylish feature to your property, extending your home into your garden, and is a low-maintenance alternative to a patio. It can rejuvenate your house almost as effectively as building a new room, and provides a perfect spot for an outdoor seating area that will be especially enjoyed as a place to gather during warmer weather.
Set up your barbecue, fix up a hammock or go all out with an indulgent hot tub. Decking can be angular or rounded for a softer finish, sit in one small corner just big enough for a loveseat or extend out from the entire back wall of the house.
Once you've fitting your decking, it's time to consider adding balustrades. These line the edges of the decking; helping to create definition, add interest to the overall design and can also act as a windbreaker.
There are a number of options to choose from, each adaptable to the style of the property and its owners.
Traditional
Despite the connotations of the word, traditional timber balustrades needn't lack a sense of modernity; when done right, they can in fact instantly bring a garden up to date. There is a huge variety, from dainty and slender to chunky and stocky with attitude.
Decking itself leaves far less room for variation, so even the most traditional styles must be carefully considered because your choice of balustrade will impact the overall style of your garden, and therefore your home. Choose from simple, straight spindles without fussy details for instant class; period properties may be better suited to curved, heavily shaped spindles.          

Rope
One attractive and more unusual choice for balustrades is rope. Place wooden posts with one or two lengths of rope looping between them and knotted at either end. This can result in a more relaxed, casual feel, and evokes a rustic style.
Whether you live near the sea or want a subtle quirky theme to your garden, good use of rope can channel seaside imagery, especially if you complement the balustrade with added accents like seashells or pebbles left nearby. Rope doesn't only have to be used for a rustic touch; it can also be sophisticated when teamed with slick metallic posts or other contemporary features such as built-in LED lighting.

Wire rope
If what you're after is a truly modern look, wire rope balustrades are for you. Stainless steel wire ropes can be used alongside wooden or matching metal posts. The combination of the classic wooden decking and metallic border make for a contemporary design that will immediately update your property. This choice benefits from a garden rich in greenery and flora to avoid an overly ordered, formal-looking finish.
Low
If you're worried about creating too much of a barrier or intrusion in your garden with standard-height balustrades, you can opt for a low-level border. They can be just as effective a feature, without overcrowding the space, and work particularly well in smaller gardens. With shorter balustrades, you also have the opportunity to build a unique balustrade that doubles up as a flower bed, by lining the edges of the decking with long rectangular beds.
Glass
Another way to inject instant modernity into any part of your home is the use of glass. Balustrades can be made up of panes of glass, a great option if you hope to keep the decking area wind-proof. They offer an unobtrusive, subtle barrier that is effortlessly contemporary and elegant. A metal frame is an ideal partner for the simplicity of glass, but frameless glass balustrades are also available and are at the height of modern architecture.
Patterned
Wooden balustrades are not limited only to traditional spindles and regular interlacing details. Add some personality and boldness to your decking area with a more unusual pattern. This could be made of wood or metal, and be anything from an intricate spider web-like design to a Chippendale-inspired pattern. It's a chance to take your decking from an ordinary secondary detail in your garden to a primary feature.
Balustrades can be designed and fitted just for you. Whatever your tastes and needs, there's a decking balustrade that will fulfil everything you want from a decking border. If you're feeling inspired, research decking balustrades online today and find the perfect style for your garden, and make the most of your property.
About the Author: Francesca Holmes is a writer and often writes about home improvement tips. When not on a mission to bring high-end architecture to the masses, she enjoys exploring the great outdoors.