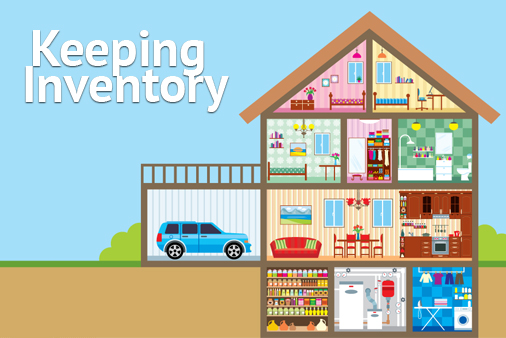 Have you ever wondered where certain items were in your home? Ever thought that you might have the same item and you purchased another one just like it? Not knowing where items are in your home can lead to a disorganized home life. It can also end up costing your more money. This is because you are constantly replacing what you cannot find with a duplicate item.
A home inventory is an organized listing of your home's structure and your possessions within the home. It can also include other spaces like a storage unit or a garage. Creating an inventory with photos, videos, receipts, and descriptive details gives you an overview of what you own. All these items are within your spaces. And by tracking your home's structural data, you also have information that can help with replacement costs. A good home inventory also includes warranties, and owner's manuals.
According to the National Association of Insurance Commission (NAIC), 70% of current homeowners do not have a home inventory. With potential for loss from damage or theft, homeowners risk losing money on claims due to inaccurate or forgotten information. Homeowners also risk being under insured because specific items may require a level of coverage beyond the current insurance policy.
Tricia Hoekwater of Uniquely Yours Digital Solutions has worked with clients who were not fully ensured and she "cannot emphasize enough that being prepared can reduce the pain and stress that you undergo when a home burns." Tricia's client expressed the importance of being adequately insured for not only your contents, but also loss of use of the residence. "It was amazing how quickly the hotel bills added up when being displaced for 4-6 months. While the multiple entities determined how to compensate for the damage and then finally get the home repaired."
Benefits of a Home Inventory
Creating a documented account of what you own can help keep you organized, prepared and aware of the items around your home. Additionally, a home inventory can help you:
– Know where your belongings are located so that you can access them easily.
– Eliminate duplicate item purchases.
– Create reminders of equipment maintenance to reduce high replacement costs.
– Ensure your are properly insured.
– Proof of items in case of damage or theft.
– Create a moving list when it is time to move.
– Create an estate plan.
"Estate planning is becoming more and more a challenging situation due to amount of items we own. And many clients are documenting their belongings to ease the burden on their children", says Cindy Hartman of Nationwide Inventory Professionals. "Some of our clients shared the sorrow and emotions they endured settling their spouse's estate, and how they wanted to spare their children from that same turmoil."
Creating Your Inventory
There are tools that help streamline your process in building a home inventory. Taking a video of your home can get your information documented quickly. Software solutions and basic photo documentation provide a simple solution to gather home inventory information. Using binders and printed materials is yet another way to track a home inventory. Yet, if yours is one of the 1,000 homes that burn every day in the US, you risk losing the printed home inventory. Cloud-based solutions are another way to track information about your possessions. These solutions keep your information in a safe, secure environment that is accessible anywhere an internet connection is available. So in case of damage to your home, you will have this data available to you.
"Documentation is important to Tim Edwards. Here is a situation all too familiar in this industry. When a return from a vacation resulted in a home theft, a homeowner was asked for proof of his 42″ HDTV. Since the burglars took all his contents, including the desk with the owner's manuals and receipts. The adjuster stated that no one was questioning that he owned a television, but the insurance company needed proof that it was a value indicated on the claim. The result was a $1600 loss from this one item alone. Calculating the rest of the losses would be a challenge without an inventory," says Tim Edwards of Elite Inventory.
Being prepared by gaining a better view of what you own and the details of these items can make the difference between recouping the full value of your losses versus the stress of trying to remember what might have been lost. It can also help you become better prepared for those just in case situations.