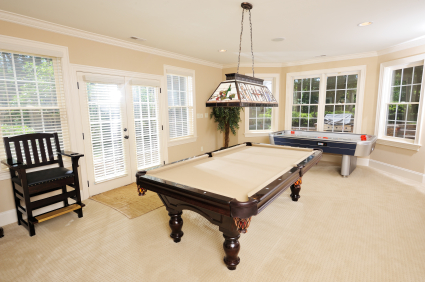 Some homes have a separate room or loft area that is used as a game room. The interior design of this room depends on whether the game room is designed for small children, teenage children or adults. A game or toy room can be a designated play area for smaller children. The room can evolve into a gaming room for kids who want to play video games. With adults, the room can evolve with a billiards table or ping pong table as a center piece.  Maybe the whole family of all ages are fans of cards or board games with a different layout of the room. A game room is a great home remodel project to create entertainment for the entire family.
Items to budget for in a game room
To get started on this home remodel project, there are very different items to budget for depending on what is the intended use of the game room.  Here is a simple list to help get you started:
| | |
| --- | --- |
| Billiard Table | Television |
| Bookshelf | TV Cabinet |
| Cable TV Receiver | Wall Hangings |
| Chairs | Window Treatments |
| Dart Board | |
How to plan for your game room furnishings
The first goal in this home remodel project is to determine who in the family will be the primary user of this room.  Then you can profile what type of gaming and entertainment is appropriate for the age of the intended users.  Taking measurements of the room will give you the overall dimensions and layout. Remember some video games are body interactive which require room to move your body. Pool tables and ping pong tables require space to play the game. Take into account the body movements, size of stick lengths and guests standing around the area when reviewing your game room project.
The fun part is to match the dimensions of the room with what gaming furnishings will fit in the room given the overall goals for the room and the game players. Game rooms are a great way to bring the whole family together and a great way to have a group of colleagues or friends over for some entertaining.
For more remodeling tips, visit the HomeZada's Remodeling Templates.