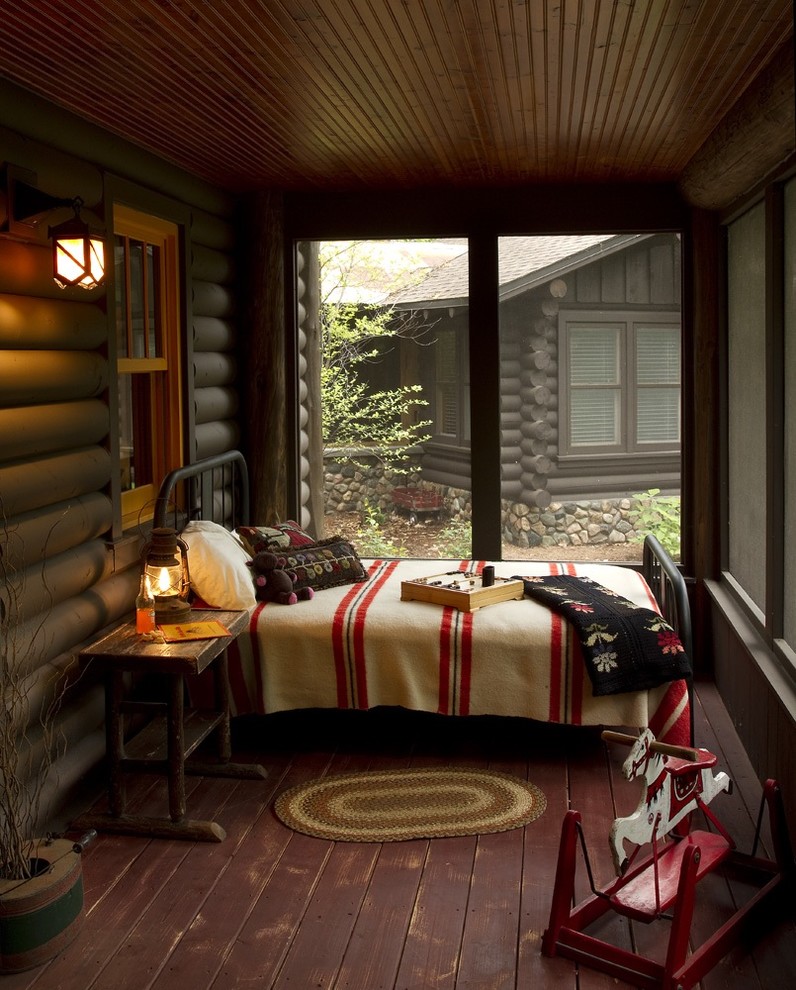 Winter often gets us in the mood for a cozy environment. One that allows to snuggle and feel like we have a rugged atmosphere to stay warm. Designing your home with this rustic theme that reflects a winter escape or log cabin feel can be accomplished with a few techniques and design elements to incorporate into your home. 
Wood
Using wood throughout your home, brings a level of rustic automatically. If you have wood floors and especially if you incorporate large wide planks, the rustic appearance will definitely be highlighted in your home. Wood casing around windows and wood blinds will also add to the warmth and appearance of a log cabin feel. Adding some wood panels to some walls or using homemade wooden headboards will give you a mountain home feel. Try adding a reclaimed wood to cabinets, a counter top or a table to bring in the old to create the special feeling of being an authentic old world home.
Color
Using warm colors like burnt orange, rust, olive green, and multiple shades of browns will also give the rustic appearance of a home. Think fall colors on trees. A picturesque fall New England scenery is the color scheme to support the earthy theme associated with a rustic design. Adding elements of these colors whether in sofas, bedding, counter tops or accent pieces around a home is an easy way to add the rustic design concept. Wood elements already have the brown tones, but using different woods to create more dimension to the spaces will also help add multiple shades of brown.
Natural Elements
Like wood, using natural elements like stone, metal and plant material can further enhance the outdoorsy theme associated with a rustic design. Using stone on walls, fireplaces, showers, sinks, counter tops and other areas only further solidifies the heaviness that accompanies a log cabin feel. Add pine cones or pieces of wood decor along a table as a center piece. Bringing in tree branches and thick trunks as decor or bases for tables can also showcase the natural elements. If you have hunters in your family and you keep the skins for rugs or blankets, these skins are the most natural it can get. Metals are forged from elements in the ground and adding metal around the will also create depth in the design of the home.
For some specific rustic design ideas, visit the HomeZada Cabin Fever Pinterest Board.