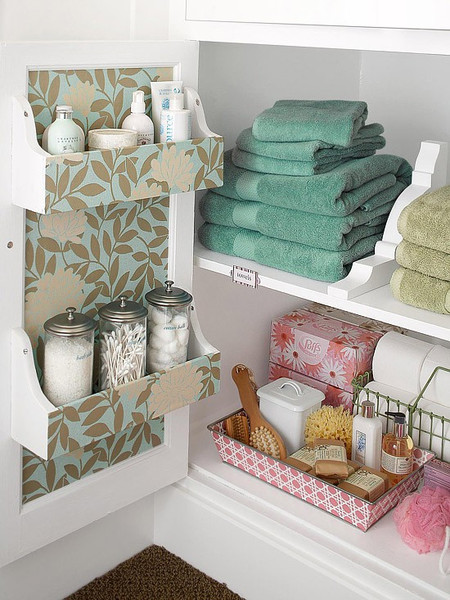 Guest Blogger: Eva Hines
Whether you have a gigantic bathroom or a compact one, you're bound to have trouble keeping it neat and organized. While maintaining a tidy bathroom poses a complex problem to many people, keeping the bathroom clean is important for a lot of reasons. One reason, an organized bathroom can help you get ready quickly.
Cutting down on bathroom clutter by eliminating the things you don't need, like that expensive shampoo that smells weird or that lipstick that's not the right color, is sure to free up some space and help you set things straight in your bathroom. But if you've already done that and still have a disorderly bathroom, you've come to the right place!
Here are 5 simple bathroom organization tips that are sure to help you get your bathroom in order.
Plan It for Your Needs
Planning your bathroom storage space will help you organize things more effectively. Start with identifying active and accessible areas, these are storage areas that you'll be accessing daily. Active storage areas will house items like your toothbrush and toothpaste, shampoo, razor, contact lenses, etc. that you'll need every day. These areas should also be user-friendly and free of hidden hazards, think countertops, hanging organizers, and easily-reachable cabinet drawers.
Next, allocate storage areas that are neither easy nor difficult to reach to hold items that you'll need occasionally. For example, your nail care and facial kit can be stored under the sink or in the middle cabinet drawer.
Items that you'll rarely need can be stored in hard-to-reach areas that require you to bend, stand on tiptoes, or use a step-stool to access the storage space.
Attack Your Medicine Cabinet
If you dream of having a bathroom with a clear countertop, turn your medicine cabinet into a storage space for everyday use items. Go through your medicine cabinet and do away with expired medicines and those that you don't have any use. Put the important stuff in a box and place it in your bedroom or kitchen cabinet.
Moving medicines out of the bathroom will prevent them from getting ruined by moisture. Most importantly, you'll have instant storage space for all your bathroom essentials. Creating active storage in the bathroom will help you organize well and find all that you need quickly on busy mornings.
Take Care of Your Styling Tools
Leaving heat styling tools on the counter can make your bathroom look untidy, and putting them in a drawer right after using them is not recommended. A simple solution to this is keeping a metal file box or mesh basket on the counter to put your tools in. You can also hang such a box or basket on a wall or on the side of a cabinet.
Metal boxes or baskets being non-flammable, are great for storing heated appliances like curling and straightening irons and blow dryers. What's more, they'll also make your bathroom look neat and tidy!
Declutter the Countertop
If you can't put all your countertop items into your medicine cabinet, don't fret; decluttering the countertop isn't impossible!
A common reason for the countertop being cluttered is lack of defined boundaries for items. If you leave items on the countertop, they are bound to migrate all over its surface. So buy a tray or basket with just a little height that can hold all your toiletries together in one place. Be sure to choose a material that is moisture-proof and easy to clean.
In addition to this, invest in some pretty canisters or apothecary jars to grace your countertop and store loose items like cotton swabs and cotton balls.
Maximize Storage Space
Maximizing storage space is possible if you know where to look for additional space. If you have a really small countertop and want to clear it of all everyday items, install a wall-mounted holder above it.
Further, make use of vertical space above the toilet and bath by fitting racks, open shelves, or cabinets on the walls. Plastic hangers suspended from hooks, nails, or the bottom of racks can act as cloth or loofah holders.
Maximize drawer space by using drawer organizers or trays to help you organize things neatly. Below the sink space can be made more accessible by using pull-out racks or by setting up rotating baskets. Fitting racks on the inside of the cabinet walls and door will also increase storage space while keeping the area easily accessible.
If you've always dreamt of having an organized bathroom, this is your chance to realize your dream! By eliminating clutter from your bathroom and using the tips given here, you'll definitely be able to make your bathroom the haven you want it to be. This is a great time to get started on setting things in order right away and make the most of the available space!
About Author: Eva Hines is a blogger who frequently writes on diverse niches like home décor, parenting, and fashion. She loves to spend time with her friends every weekend and is a travel enthusiast. You can connect with her on Twitter @evaphines