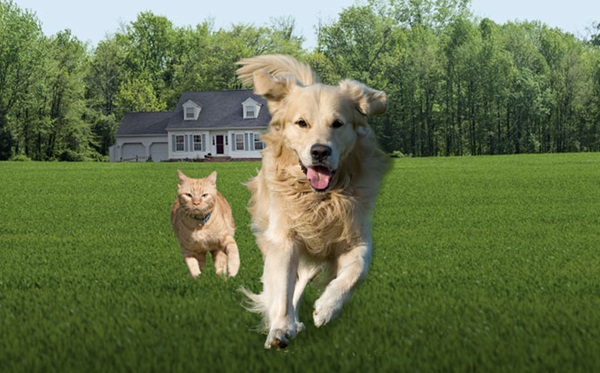 Summer is the perfect time to be outside. And being outside means lots of trees and flowers in bloom. Grass growing everyday and the potential for pesky fleas and ticks to invade your home. Fleas and ticks carry diseases and cause skin problems both to you and your pets. Protecting your home from fleas and ticks and an occasional rattlesnake can be easy with some of these tips. 
Topical or Oral Pet Medications 
Giving your pets topical or oral medications that repel fleas and ticks is the first step to keeping fleas and ticks from your home. These medications can be secured from your local vet or from a pet store that carries these products. Once these products are given to your pets, you may need to keep giving these products to your pets once per month during the summer which is high flea and tick season.
Check your Pets
Check your pets regularly for fleas or ticks. Ticks can embed themselves in or behind ears, in joint areas around the hips and front legs, and underneath a collar among other areas. So check your pets thoroughly. If you have a black or dark brown dog or cat, check their dark colored fur especially because ticks can mask themselves in this area as they could be the same color. If you find that your pets do have ticks, remove them carefully and dispose of them. If you feel your pets have fleas, it is good idea to move them out of the house quickly and give them a flea bath immediately. The longer your flea bitten pet remains in your home, the more opportunities fleas have a way of causing havoc on your home. So temporary shelter elsewhere maybe necessary for the overall health of the family.
Clean Your Home
Cleaning your home thoroughly will keep insects of any sort out of your home. However, if you feel fleas are a possibility, then cleaning the house immediately could help remove the fleas from your home. Clean your counters, vacuum all your carpets, wipe down wood floors and wash sheets, towels and clothes. If the fleas still persist, you may need to fumigate or exterminate your home of the critters. This can be down with over the counter solutions or you can find a pest control service professional in your area to help with the extermination process. You will need to keep your pets outside during this cleaning process and not allow them back in the home until the situation is resolved in their fur.
Change your Landscape
If this flea and tick problem consists annually, you may want to consider changing your landscape or at least the landscape where your pet spends the most time. Creating a concrete or stone area where your pet can spend a lot of time outside will help manage the pesky fleas and ticks and your pets may thank you for less scratching. Another option is to add mulch to your yard, specifically cedar mulch. Cedar mulch is a natural repellent for fleas and ticks and is an easy landscaping features that can enhance your yard.
Mow your Grass
Mow your grass regularly and make sure it is not too high. Fleas like longer grass, so mowing your grass to a lower height will help with flea management. This of your grass like a man's hair cut, what number on the blade and a great design will result. In addition to maintaining grass height, be careful of over watering your grass. Over watering draws insects and fleas love water. If you yard is having a drainage issue, try aerating the yard to help with drainage.
Now for that pesky and potentially dangerous rattlesnake if you happen to be in rattlesnake territory, hire a professional. Yep, unless you are fearless and feel like you can tame the snake, a professional can help remove this reptile from your yard easily and you need not worry about anything.