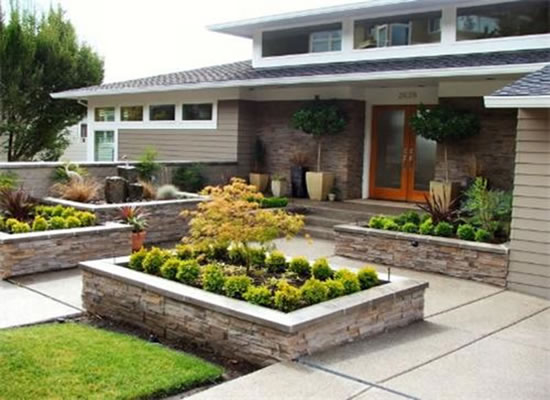 Guest Blogger: Diana Smith
Landscape architecture has been popular for a long time, but in 2016 – it has reached new levels of superior design and solution.
Unlike the usual garden-designing we are used to, this time around we are presented with something way more geometric, fresh and contemporary in terms of outdoor solutions. Some designs have gone totally against the manicured lawns and embraced the overgrown areas with the attempt to rebel against the already seen and exercised designs. The focus of 2016 garden design is to be eye-catching, stylish and as original as possible.
Here's what caught most interest:
Grass Tile Surprise
The interesting layout of squares and rectangles is the thing you want to be on the lookout for if you are planning on redecorating your yard after the latest garden design standards. Usually, landscape designers are going for elfin thyme as it's not only looking stunning, but it is also hardy and it can handle foot traffic.
To make the space look visually bigger, garden planners are now dividing yards and giving them that extra moment. All the design solutions we've seen (and that involve grass and tile mash-up) resemble true works of art, with the line between natural elements and concrete blurred superbly.
Stone Tile Beauty
It's high time stone presented itself in our yards, don't you think? Flagstone pathways and gravel combined are strategically placed to give the space the dimension and drama.
Stone pathways can double as a rock gardens and stepping stones are added for additional interest.  For some landscape bonus, add plants your feel would fit your outdoor décor and fill the remaining space with pea gravel and rocks.
Plants for Excitement
A garden wouldn't be all that if there weren't some interesting plants to give it a warm tone. What occupied designers' attention in 2016 are tropical plants and flowerbeds to create stunning borders.
The dramatic effect is achieved through terraced landscaping too, and with the use of tall grassy plants and flowers for a hint of extravaganza. If you are a fan of bushes, rely on professionals to work on hedge trimming to cut and design even the smallest of your plants, and make them look gorgeous.
A beautiful statement tree appears to be a must, especially in bigger yards. Exotic trees like Japanese maple with their own stony beds are preferred.
Landscape Details All Around
Once all the "hard work" around the yard is done (plants and stones are properly placed), it's time to add some finishing touches. Just as accessories can either make or break an outfit, so can landscape details contribute to your yard going south or reaching its peak. Seating, anchor, lights, outdoor ornaments, etc will be that last thing to beautify the already wonderful space. You can either make your decorations of choice the extension of your indoor space or create a totally separate environment. It's up to you! Still, if you are unsure of the direction to take, we advise you to consult with outdoor architects who'll know what to do.
Whether you're looking to completely redesign your yard, or just add a few touches here and there, you can't go wrong if you choose any of the 2016 outdoor trends. You may be surprised at how a new stone path, a fresh set of outdoor chairs or the right lighting can transform your space! Exciting opportunities await when you have fun coming up with ideas for your improved outdoor space… and enjoy it!
Author Bio:  Diana Smith is a full time mom of two beautiful girls interested in topics related to home decor and latest home DIY projects. In her free time she enjoys exercising at the local gym and preparing healthy meals for her family.