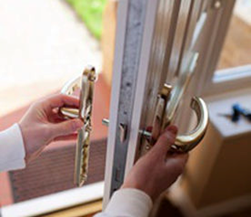 There are a number of things you should always consider when specifying door hardware in order to be sure that the ironmongery is fitted properly and provides efficient functionality for the door. Below is some advice from architectural ironmongery and security hardware specialists, Stronghold Direct on how best to avoid any issues you may be faced with before, during, or after the fitting process.
Purchase the same type of door handle for both sides of the door
It is important to choose the same type of door handle (e.g. mortice knob or lever handle) for both sides of the same door. It might work out cheaper to buy a door knob for one side and a lever handle for the other, however this will only cause problems when you attempt to fit them. This is due to the knob needing a heavy spring and the handle only needing a light spring, therefore proving to be incompatible.
Double check measurements
Double checking door measurements is vital. The worst thing that can happen is for you to cut into a door without having double checked your measurement, only to then realize your measurements are wrong. You could save yourself a lot of time and money later on if you make sure to check all your measurements and check again before any cutting is involved. This also applies if you are using a joinery contractor; don't assume it to be their job to check measurements.
Take time and care when fitting door handles
Door handles that have been poorly fitted are likely to cause a number of issues, some immediately noticeable prior to fitting and some becoming evident later on. Drooping of the door handle is common and will occur if the door handle is not sprung correctly. Further issues that may follow include handles that do not spring back to their original resting position and handles becoming loose and falling off. These issues are most commonly due to misalignment of door hardware so make sure to take time to fit them with precision.
Use the same supplier
Keep the job simple and purchase door handles and other accessories from the same reputable supplier. Before attempting to fit the door handle make sure that all the parts for the job are included and that you have the necessary tools for the job.
Material of the door
Make sure that the material of the door is suitable for the handle. For example, if the door material is weak, you should avoid a large or heavy door knob. It is best to evaluate the door and select a handle that matches the design scheme of your home and gives you the desired effect but also suits the material you are attaching it to. Ask your supplier if you are unsure on the properties of different materials or need help in understanding the effect each material can give.
Don't over-tighten door handles
When fitting door handles it is important not to over-tighten the screws as this will cause a number of problems. When screws have been over-tightened, the backplate to which the handle is fixed pinches into the door causing the lock or latch to pinch, stopping the spring inside the lock from working properly.
Avoid sloppy hinges
It's worth investing in good quality hinges from well-known brands. This is because poor quality hinges – especially on heavily used doors – tend to become "sloppy" after a while, causing the door to drop from its original position and therefore causing other door hardware to become misaligned, putting strain on the door closer. If you notice the door starting to rub against the jamb, be sure to tighten the hinge screws as they are likely to have become loose and worn
Avoid cheap door furniture
Sometimes it can be tempting to find the cheapest available products. Although sometimes fit for the job, it is best to purchase your products from a trusted and registered company. This will allow you to feel safe in the knowledge that the products high quality and tested to relevant regulations. These companies usually always offer an exchange or refund policy if the product doesn't work.
About Author: Phil Chantler is a Registered Architectural Ironmonger and has been an industry professional for over 10 years. He is the director of Architectural Ironmongery company, Stronghold Direct www.strongholddirect.co.uk.