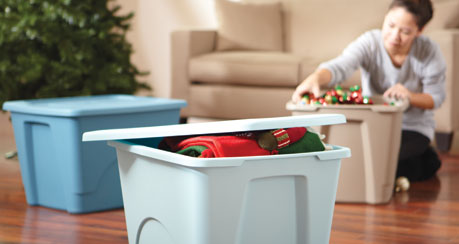 Getting organized is often a New Year's resolution for many people. One area of holiday organization starts with holiday decorations. You may have already taken your decorations down or ready to do so now. Holiday decorations have many components to them from fragile ornaments to wide fluffy wreaths. Whether you are packing up lights or artificial trees, using the best packaging will help them all be safe come the following holiday time in another 12 months. 
These tips are sure to get you organized and keep your precious memories protected.
– Using storage bins that are made of strong plastic or cardboard have a way of protecting your pieces a bit better than some other flimsy material based boxes. Also using stackable storage bins with the heaviest items on the bottom will also help.
– Separating and grouping items will also help make searching for decorations the following year easier. For instance, try keeping all your lights together and keep all your ornaments in another bin.
– Keeping wreaths fluffy might be tough, but storing them in bins or hanging them on hooks in your attic or garage will keep them in tack.
– Trees can be tough to store because they can take up a lot of room. So if you do have room to store them upright, you can simply use an old sheet to cover the tree and it will be ready to go next year. Or take the tree apart and store it in a box that can fit all parts.
– Labeling boxes or bins is a great way to quickly find what you need when the holidays arrive. Taking photos of the items you have and taping those photos can also help you find what you need easily.
Organizing can start easily with holiday decorations and then move on to other areas of the house. Tackling one project at a time is a surefire way to keep you on target for organizing your home.