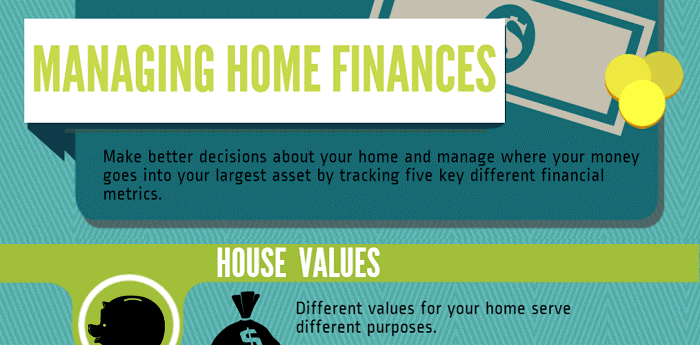 Managing a household budget can be tricky if you are not able to document all the details about your average monthly spend. Many homeowners keep a list of electric, telephone, mobile phone, care givers, groceries, water, mortgage and car expenses. But many people forget about their home maintenance spend, their insurance fees and home repair costs throughout the year. These activities either pop up unexpectedly or they are not monthly expenses and are forgotten because they happen periodically. These are just a few expenses that are forgotten when it comes to overall home management. Looking at five key areas of finances that directly impact your home will help you have better visibility and understanding of your home that can help you make better decisions that pertain to one of your largest assets.
House Values
Understanding your house values will help you understand activities like when is a good time to sell my house, what would someone pay for my house if I sold it today, and if anything happened to my house, what would my insurance company cover me for repairs or restoration. Understanding your purchase price, assessed value and appraised value of your home will help you understand how much property tax you are required to pay.
House Related Monthly Expenses
When owning a home there are costs that are required to manage it. Property expenses like mortgage, taxes and insurance are instrumental in being able to secure a home. Utility costs help you function inside your home while living there. Basic and premium services like internet, tv, security, cleaning, landscaping, pool care and more maybe a requirement for you to live comfortably while others might be premium services that you choose to manage monthly or periodically depending on your budgets.
Maintenance and Repair Costs
Maintenance costs of your home generally occur periodically depending on your schedules and if any issues might occur. Utility costs can be managed with proper maintenance of equipment and appliances, so scheduling regular check ups on your major equipment like HVAC units, hot water heaters and major appliances can actually help you reduce utility bills and extend the life of your equipment. For financial projects purposes, annual maintenance is between 1 – 4% of your home's value depending on the age of the home. The older the home, the more maintenance that may be likely.
Home Inventory Values
Understanding what you own and the estimated values of what you own can go a long way to recovering any claims should your home experience a catastrophe, an unexpected maintenance problem or some other unfortunate event. Understanding the estimated values of what you own can also help manage and insure collectibles or artwork or help with moving estimates.
Home Remodel Project Costs
When managing home remodel projects, staying in front of estimates and budgets will help you stay on top of these budgets and help you manage the details of the project expenses. If you can gain a clear understanding of your projects prior to getting started, you can determine how best to project plan and determine where the funds will be coming from to allocate for these projects.
Having a clear vision of the financial details surrounding your home will help you make the best decisions pertaining to your home and your overall finances.