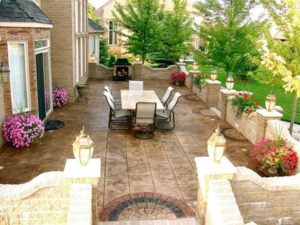 Concrete gives you a vast array of decorative options not possible with other patio materials, along with a super-durable, weather-resistant, and easy-to-maintain surface. Here are just a few of the ways you can customize your concrete patio to suit your lifestyle and budget.
1. Get the Look of Stone for Less
If you love the look of high-end natural stone but not the steep cost, you can create the same effect for much less with stamped concrete. Not only can you choose from several different stone and brick patterns, but contractors can also use stains, powdered pigments, and antiquing agents to color your patio to look identical to travertine, bluestone, or any other natural stone.
How much can you save with stamped concrete? "We charge around $12 per square foot for stamped concrete, while pavers typically cost around $20 per square foot, and real flagstone or bluestone approaches $30," says C.J. Salzano of Salzano Custom Concrete, Centreville, Va.
What's more, the money you save by installing a stamped concrete patio can be set aside for other enhancements to your outdoor space, like a pergola or concrete fire pit.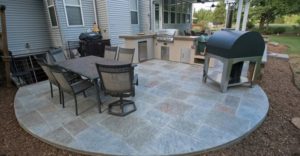 Ashlar slate stamped pattern, hand-colored to replicate Pennsylvania bluestone.
2. Choose Complementary Colors
There are endless effects you can achieve by using acid- or water-based concrete stains to spice up the look of a plain concrete patio. Sometimes the best approach is to keep it simple and stick with colors that complement your home's exterior or the surrounding landscape. Natural, earth-toned color schemes, such as tans, browns, and terra cottas, blend in beautifully with most outdoor settings.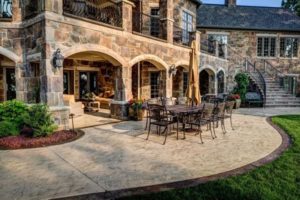 A complementary pattern and color blend with the home's exterior.
3. Add Custom Graphics
You can adorn your concrete patio surfaces with custom graphic designs using paper or plastic stencils or special stamping tools and fill in the pattern with your choice of concrete stains or dyes. Popular options include vine designs, decorative medallions, compass roses, and faux outdoor carpets. Many manufacturers offer a variety of off-the-shelf patterns to choose from, but some companies also make custom stencils or stamps that precisely replicate customer-supplied artwork.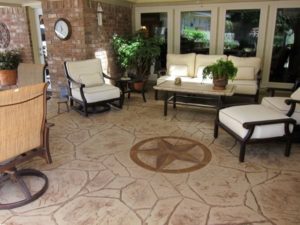 Custom graphic inlaid in a stamped pattern accents the center of the patio
4. Create Faux Tile
You can give your patio the look of a faux-tile floor by using a concrete saw to cut it into a checkerboard or diamond pattern enhanced by contrasting colors of stain. This elegant look is ideal for formal outdoor rooms and can often be color matched to an interior tile floor.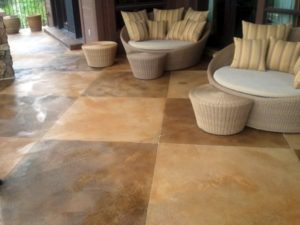 Saw cuts and custom staining replicate the look of large tile.
5. Embellish It with a Border
Highlight your concrete patio by adding a stained border in a contrasting color. Colored borders are especially effective when used to outline free-form patio shapes but also work well with square or oval designs.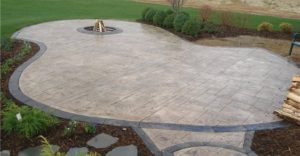 A dark boarder accents and defines the edge of this free-form patio.
6. Use Bold Color Accents
Don't be afraid to use unconventional color accents mixed with graphic designs. If you're going for an ultramodern look, water-based concrete stains come in a full spectrum of hues, including blues, reds, and greens. In many cases, the different colors can be mixed, like water-based paints, to broaden your options.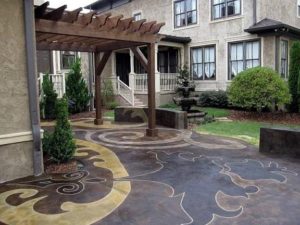 A custom graphic design is highlighted with multiple stain colors.
See more decorative concrete patio ideas and ways to enhance your outdoor space at Concrete Network.com.
About Author: Anne Balogh has been a contributing author for ConcreteNetwork.com for nearly 20 years. With a background in concrete construction journalism, she shares valuable tips for ways you can enhance newly placed and existing concrete driveways. ConcreteNetwork.com can also be found on Facebook and Instagram.