Have the Property Inspected
It's easy for an untrained eye to overlook major issues. You may want to have your property inspected by a certified expert, even if local regulations do not mandate it.
After your property has been inspected, you'll be able to get a certificate of occupancy from your local zoning or building authority. This document can make your rental more marketable.
Require Tenants to Clean Your Rental Property
Even if you are lucky enough to find a tenant who is a neat freak, you'll still have to do some cleaning after they move out.
Nevertheless, to make things easier for yourself in the future, provide your new tenants with a checklist of details you expect them to take care of. You can stipulate the items on the checklist in your tenancy agreement.
Also, make sure to photograph every corner of your squeaky-clean property before the new tenants arrive. This way, at the end of their tenancy, they won't be able to get away with their sloppiness by saying, "it was like that when we moved in."
Replace Old Appliances and Furniture
If you have very old furniture and appliances in your rental, they will look dirty even after a good scrub. When appliances such as fridges, dishwashers, and stoves become grimy and difficult to clean, it's time to replace them.
When it comes to furniture, chances are you'll need to replace the mattresses. An old, uncomfortable mattress will put off tenants and can lead to bad reviews for short-term rentals, even if you've made sure to clean it.
Replacing the carpeting may be a good idea as well. If you deem the carpets are in good condition, make sure to have them professionally cleaned.
You'll be able to keep your rental looking great at all times if you budget to replace old appliances and furniture in a timely manner.
Attack Lingering Mold, Mildew, Stains, and Odors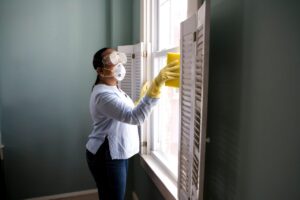 When tenants don't do a good job of cleaning and airing out the bathroom and the kitchen, mold and mildew are likely to appear.
Mold may be present even when you can't see it, hiding behind the walls. So, if there are some mysterious odors inside the property, now you know where to look.
Before you clean the mold and mildew, you should find out what's causing it. Otherwise, it will probably keep coming back. Leaks in the roof, leaking pipes, and poor ventilation are just a few problems that can cause mold.
Aside from looking and smelling bad, mold can be toxic. But bleach and other chemical mold cleaners can be just as toxic and just as bad. And, after treating your property with them, you may be left with an unpleasant smell that takes ages to air out.
To avoid that, it's best to use white vinegar, baking soda, or all-natural household cleaning products. This way, you won't endanger your health and the health of your new tenants.
Mold is most likely to appear in the bathroom and the kitchen. Consider upgrading the ventilator fan in your bathroom and the range hood in your kitchen.
Ask your tenants to squeegee the shower after every use. You can also add a dehumidifier in rooms with high levels of humidity.
Check for Maintenance Needs
It is very important to stay up to date with the maintenance needs of your rental. Before the next tenant moves in, perform a maintenance check.
Make sure to inspect the property for damages. Now is the right time to call a plumber to fix that leaking tap out the back. If you notice that something needs to be repaired, you can rest assured the prospective tenants will notice it as well.
Be proactive and take care of these issues ASAP—save yourself the heartache. When it comes to rentals, minimal maintenance is always a huge selling point.
Erase Scuff Marks
Scuff marks can be a huge eyesore. Magic erasers will help you deal with such imperfections quickly, so make sure to stock up. You can use them to make the bathroom shine brighter than ever and to fix walls without repainting them.
Clean Some More
When you're done cleaning your rental property, take a break, and then clean the key areas again. Start with the dining area, the kitchen, and the bathroom. Make sure to replace the HVAC filters, sanitize hard surfaces, clear air intake vents, and test light fixtures.
Don't forget about light switch covers, outlets, baseboard tops, and spots under the countertop.
It's not uncommon for tenants to forget to clean places that are usually out of sight. Grime will build up if they overlook these forgotten spots. Make sure to clean every nook and cranny, literally.
When you're done cleaning forgotten spots and hard-to-reach areas, don't hesitate to brag to prospective tenants about the work you've done. By doing so, you won't just make your rental more appealing, you will also set a higher standard for the new tenant.
About Author: Kevin has gone through an extensive home renovation with his son, which he has both thoroughly enjoyed, and dreaded every morning. He is now the proud owner of half his dream house (the other half has been waiting for spring). You can read more of Kevin's work on PlainHelp.