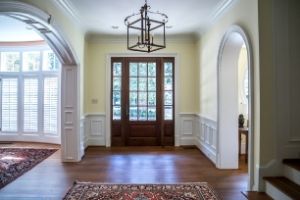 Building a new home or preparing for upgrades is an exciting prospect. Now more than ever, there are many affordable choices to consider that will bring appreciation and comfort throughout the entire home. So much so that it can be tough to decide which new home features to consider when designing a house. There are a few options that are trending and worth investigating.
Plan and Build in Storage
One major concern for every family, regardless of the design or layout, is the availability of storage. Finding places to put everything can be a real challenge, especially if the house is not planned. This lack of foresight is easy to spot and can drastically cheapen the look and experience of a home. Boxing a tiny closet in the corner of a room just won't cut it nowadays.
Closets and pantries need to be carefully arranged to take up space between rooms, rather than creating irregular shapes or reduced room sizes. Setting shelving into walls adds elegance and storage space that does not jut out from the wall as noticeably as a piece of shelving furniture.
Create a Dedicated Entry Area
Two more amazing new home features to consider when designing a house relate to the entry. First, every homeowner and builder know that the entryway creates an essential first impression. Choosing to invest in a more elegant solid wood entryway makes a statement that the home is valuable and lovingly assembled.
To complement the improved entryway, mudrooms are becoming popular. These are small spaces that either lead from the entry into the rest of the house or function as a walk-in closet just off the first room. As the name suggests, this is an area dedicated to taking the brunt of whatever guests may track in as well as hosting storage space for coats and other accessories.
Consider Lifestyle Rooms
The modern homeowner is not shy about participating in their hobbies and making downtime for themselves. As such, extra rooms that are designed to be more than just storage are essential. Gaming rooms, as well as areas for collections, crafts, studio spaces, and more, are becoming necessary rather than a luxury.
Boost the Comfort with Technology
With the advent of smart gadgets, houses are becoming much more advanced. This includes setting up remote control for several basic luxuries. Why walk across the room to turn up the thermostat when you can do it from the couch? Lights, heating, locks, security features, and more are increasingly available in smart varieties for reasonable prices. Also, comfort throughout the home is essential. This includes heating and air from top to bottom, and many people are also opting for heated garages.
Every year, innovations arrive that improve the comfort of our homes. It's exciting for any builder or homeowner to watch and participate in these trends.
Here are some more blogs that may support your home design efforts.
The Perfect Duo: Wood and Metal in Interior Design
Best Interior Design Styles for a Living Room