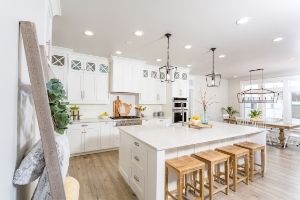 Whether you've just moved into your home or have lived there for a while, you may have rooms in your house that could use a little sprucing up. Let's face it—you don't always have time to finish a room when you move into a house, but you don't want it to look cold, sterile, and unwelcoming.
So if your space is looking drab, get motivated to refresh it with the best tips for completing a room's aesthetic. Let's look at the home, room by room.
Spice up the Kitchen
The right kitchen décor can bring the style and various elements of your kitchen together. You don't want to go through all the work of upgrading your kitchen and not be satisfied with the finishing touches. It all contributes to the overall look, from utensils to towels and dishcloths.
Storage containers are also a great purchase if you're looking for practicality as well as organizational aesthetics. Think about hiding your extra kitchen gadgets inside of a dual functional island that matches your cabinetry.
If you want to go a bit deeper, under-cabinet lighting can make a world of difference. It fills the room with a warm glow without an annoying glare, and it illuminates under-cabinet spaces well. It is a dramatic improvement for a moderate cost and will improve the look of your kitchen for years to come.
Liven up Your Living Room
A living room should be equal parts beautiful and functional. It's important that the room work for both your tastes and your lifestyle.
Again, storage is a great idea, but you want to choose items that are both functional and serves as décor. Look for pieces that add to your desired aesthetic while promoting your lifestyle. Lighting is, of course, critical. Vary your lighting between task-oriented lighting and aesthetically pleasing floor lamps.
The most important element of a living room is that you actually want to hang out in it, so take a chance and see how much you can improve your living room.
Escape To Your Bedroom
The bedroom should be your happy place, and there's no better way to accomplish this than to make it aesthetically pleasing. After all, everyone needs a place where they can relax and escape the rest of the world.
After picking a color scheme, minimal bedding is essential, but don't run out and buy the most inexpensive bedding on the market. You spend a lot of time in your bed, so it should be a pleasure to be there.
There are other things that you can change in your bedroom, like spicing up the walls with a textured tapestry. Candles often add mood and warmth to a room. Look to accentuate the look you've already developed there.
Those are just a few of the best tips for completing a room's aesthetic. With a little motivation, you can have your house looking magazine-ready. Anytime is a good time to improve your home, so get to it and happy decorating!
Choosing a Decorating Aesthetic
Tips For Decorating Your Master Bedroom
Find Your Happy Place: 10 DIY Faux Painting Techniques To Try