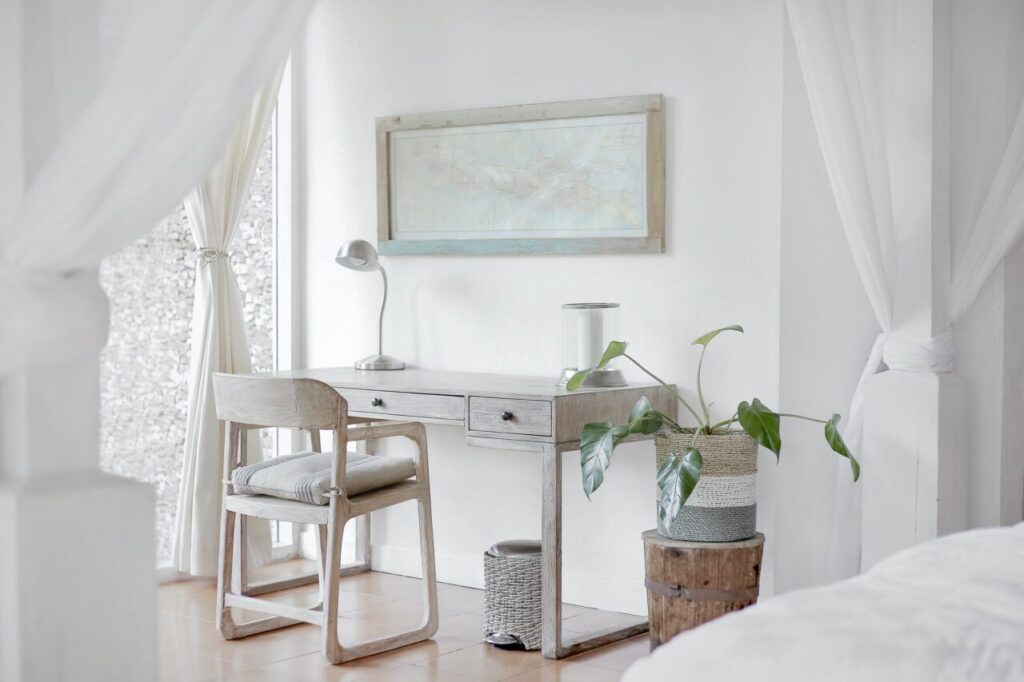 Your bedroom should always inspire feelings of comfort and serenity. It's a space where you can retire at the end of the day and unwind.
But, have you stopped to think about where you spend most of your time when you're at home? Do you find yourself always revolving around your bedroom, or do you tend to avoid it? Observing your behavior will reveal some answers on how much your bedroom is in need of an upgrade.
That being said, a pleasant change that can enhance your relaxation time is always welcome. Sometimes, even the smallest change can make the biggest impact – like replacing your old curtains with fresh ones or adjusting the lighting.
Here are eight wonderful ideas that can enrich your bedroom experience and make it your most intimate den.
1. Avoid Dark-Colored Walls
Painting your bedroom walls with dark colors or introducing gloomy wallpaper might not be the best idea. While it's true that you'd get a night of better sleep in a darker room, you can achieve the effect by arranging some dark curtains to block the morning sunlight.
However, constantly dwelling in a gloomy bedroom would throw you into a rather depressed state in the long run. So instead, pick some spring-inspired colors to paint your bedroom with and brighten up your mood.
We love how calming pink, blue, and green can be. Just make sure to pick a lighter shade. Lightly-colored walls will also make your bedroom seem more spacious.
2. Upgrade Your Mattress
Equipping your bedroom with a new mattress is not only an improvement for your bedroom but also an investment in your health and wellbeing.
It's extremely important to replace sagging, worn mattresses with new ones that adapt to your sleeping positions and support the body to prevent strain and stiffness.
Look into the options you have, and don't hold back on splurging. A new mattress is the first step toward ultimate comfort.
3. New Bedsheets Are Always a Treat
This is where you can experiment a lot when decorating your bedroom. You might opt for bed sheets that match the style and colors of your space, complementing the curtains or the rug. Alternatively, you might go for a completely different design so that your sheets stand out on their own.
So, whenever you need some pampering, go and grab some quality bedding and spruce up your bedroom. Earthy colors and soft prints are our weakness – they add wonderfully to the coziness and comfort of a bedroom.
4. Swap the Traditional Closet with a Built-in One
You'd be surprised to learn that the cost of a poorly-designed closet would be the same as a well-designed one. Built-in closets aren't always an option with properties that aren't designed to accommodate them, but if you have the opportunity, they're totally worth it.
Built-in closets add more space and flavor even to the smallest of bedrooms, and they don't have to be large to fit your entire wardrobe. The truth is, you can store most of the stuff that you rarely use in the attic, the basement, or the garage. That will enable you to organize your closet in a practical way.
5. Use a Clothing Rack for Your Everyday Outfits
In addition to your closet, you can utilize a clothing rack as a design detail where you can hang your favorite outfits and rotate seasonally. Clothing racks recently gained momentum in interior design. Now there are many wonderful options you can pick from and complement the style of your bedroom.
Best of all, using a clothing rack will additionally reduce piling up all of your clothes in the closet.
6. Transform Your Bedroom Lighting
The bedroom isn't a place for sharp and bright lights. Take your work elsewhere and adjust your bedroom lights to a softer glow so you can relax properly.
Bedside lamps are always a good idea for lighting up your bedroom. Plus, they add a great finishing touch to your nightstands. They come in all shapes and sizes, so you can experiment and make a statement by picking up a lamp that stands out.
7. Introduce Calming Scents
Promote wellness and reduce stress by adding some scents to your bedroom for calming aromatherapy.
Essential oils are a quick solution whenever you're in need of a soothing session. Spill a couple of drops of lavender, bergamot, or jasmine essential oil on your bedding, or use an essential oil diffuser to create the same tranquilizing effect.
Scented candles are also a fantastic option, as they'll create natural soft lighting as well. Pinyon pine, white musk, and honeysuckle are our top candle picks for the bedroom chill vibe.
8. Invite Nature Indoors
Our last tip for promoting warmth and tenderness is to place some greenery in your bedroom. Plants are known to boost energy and naturally clean the air so you can wake up refreshed and energized every morning.
Boston ferns, snake plants, aloe vera, and Gerber daisies are all well-known for improving air quality and removing toxins.
Place them on cupboards, nightstands, window sills, or the floor, and enjoy the serenity they bring.
In Closing
Turning your bedroom into an oasis doesn't have to be a strict process with a set deadline. We're well-aware that the ideas on our list can be a big bite to swallow if incorporated all at once.
So try tackling them one by one. It would take more time, but the changes will be visible as you gradually progress. That way, the process will be rewarding with each baby step you take.
Here are more ways to create a bedroom oasis:
Sensual Bedroom Tips to Put you in the Mood
A New Shade of Green: 7 Eco-Friendly Additions For Your Master Bedroom