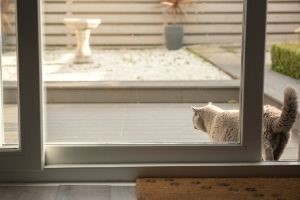 Every property has competition out there. When looking for tenants, a landlord needs to showcase the features that make their unit stand out—or make some improvements to add those features. If you can only offer the basics right now, think about remodeling withthe most popular amenities renters are looking for.For a small investment, you can increase the number and quality of candidates interested in signing a lease.
Pets Allowed
If you've ever had a pet, you know the damage they can do. But they're often part of renters' families, so they're willing to pay more for you to accommodate them. If you're not virulently anti-pet, consider being flexible with your policy. It could be a way to justify higher rent and maximize your profits. Even better, your tenants will be grateful.
Updated Kitchens
The major appliances might be perfectly functional, but they're the kind of items that look vintage before their time. Keep up with the current trends for kitchens, even if it's nothing more than walking through the selection at Home Depot.
Hint: stainless steel is on the way out, while matte black refrigerators are the latest thing.
Updated Bathrooms
Giving the bathroom a minor makeover is even easier. Look at your unit with fresh eyes to see what might need some sprucing up. Changing out the fixtures is a fast and easy way to make the room look new. Newer toilets have higher seats and cost just a few hundred dollars. And installing new flooring has a big impact with a negligible price tag.
Walk-In Closets
This is one ofthe most popular amenities renters are looking for,but there's not much you can do about square footage. One solution is to sacrifice a bit of bedroom space and rededicate it to a luxe walk-in closet. Any storage is a plus for tenants who have a habit of packing more than they have room for. Point out any storage available in the facility, attic, or crawl space, too.
Smart Technology
Every tenant would choose to move into a brand-new unit if they could. There's nothing you can do about that, but adding smart home technology updates your property in a way that's cost-efficient and convenient for you. Renters love being able to control the thermostat with a phone app or rely on automatic lights when they're not home. Doorbell cameras are becoming more popular and serve as a crime deterrent, too.
For more blogs like this one, please check these out:
10 Steps to Renting a Room in Your House
6 Tips for Renting Out Your Home